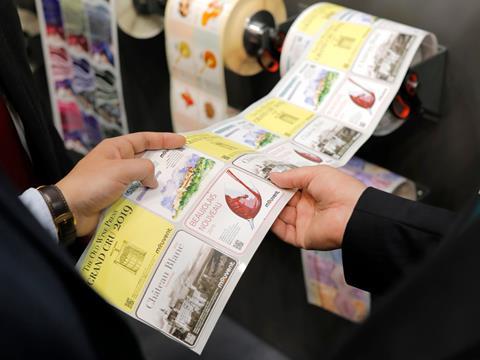 At Labelexpo 2019, BOBST announced the world premiere of its latest innovation – a hybrid label press, which provides the 'best possible combination of digital and DigiFlexo printing in a single press'.
BOBST says the MASTER DM5 – which has 'Mouvent™ Ink-Jet Digital Technology Inside' – is associated with total flexibility for high added value labels, with extremely short job setup and fast return on investment. It is 'the most digitally automated press in the label market, with the highest print quality and productivity'.
"The MASTER DM5 is our first ever fully digitally integrated hybrid press and represents a new era in the production of self-adhesive labels with totally new standards of productivity and profitability," said Jean-Pascal Bobst, CEO of BOBST. "BOBST can now offer the full range of Digital, Hybrid and DigiFlexo solutions, which are perfectly integrated, interchangeable and scalable to all present and future needs."
The digital print engine inside the MASTER DM5 is made up of Mouvent's proprietary Cluster Technology – integrating Fujifilm Dimatix Samba print heads – which is the basis of the entire range of digital printing machines developed by Mouvent, BOBST's digital printing competence center. The Mouvent™ Cluster heads are compact and simple to change for easy and accessible maintenance, and have all-in-one fully integrated inking, conditioning and electronic circuits for the highest print heads reliability.
"Two of the greatest benefits of the MASTER DM5 are its productivity and reliability," said Federico D'Annunzio, BOBST Program Manager Hybrid Printing. "It represents a total flexo-digital-converting integration, with non-stop productivity, and the highest press uptime in the industry. It prints at speeds of up to 100 m/min at the highest quality, 1.200 x 1.200 dpi. Full digital automation means that only one press operator is needed to print high added value label jobs, in short and medium runs. Job changes on-the-fly, without stopping the press, are possible for flexo, digital, die-cutting and stripping processes. All analogue tools (print cylinders, flexible dies) are changed automatically. Waste stripping is also fully automated. Eliminating traditional analogue bottlenecks, the MASTER DM5 is the very first digitised 'non-stop' label press."
Furthermore, BOBSTS says that in an era when colour fidelity and consistency are more important than ever, the MASTER DM5 has the widest digital colour gamut in digital printing, and the most accurate and easy to achieve digital colour matching. It has an exclusive screening and digital front end (DFE) solution.
Ink-on-Demand (IoD) is an optional extra for DigiFlexo print units - a revolutionary solution that replaces conventional inking reservoirs with a single rubber pipe that dispenses 30 grams of ink to the print unit. The system eliminates ink trays and chambered doctor blades and performs fully automated washing of the print unit in less than one minute.
It also has a full range of added value capabilities, including coatings, varnishes, tactile effects, 3d effects, hot stamping, cold foil, embossing, die cutting, punching, silk screen, flexo and digital Variable Data Printing (VDP).
"The MASTER DM5 is a fully digitally integrated label press like this has never been invented before," said Federico D'Annunzio. "The benefits for printers and converters are significant, and we are planning to demonstrate the full capabilities of this highly innovative press at Labelexpo."