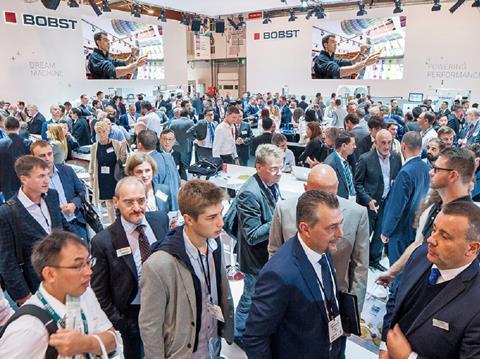 BOBST, along with its digital printing competence center Mouvent, are set to reveal a portfolio of world-leading innovations at the world's largest label event, Labelexpo Europe.
Visitors at the event, which takes place 24 to 27 September 2019 in Brussels, will be able to see four complete digitalized production processes across a digital native press, equipped with water-based inks, a new world premiere UV/Flexo hybrid printing machine and a DigiFlexo press.
"We have recently revealed several truly ground-breaking innovations that will set new standards helping converters and brand owners improve time-to-market, guarantee colour consistency and food packaging safety," said Federico D'Annunzio, BOBST Program Manager Hybrid Printing. "It's really exciting to bring these latest innovations together in one place, so attendees will be able to see for themselves the difference these innovations make, and the impact they could have on their own businesses."
Latest innovations pave way for world premiere
The latest innovations include Ink-on-Demand (IoD), Highly Automated Liquid (HAL) and DigiColor – game-changing solutions that will set a new course for the industry's future.
The IoD inking system replaces conventional inking reservoirs with a single rubber pipe that dispenses 30 grams of ink to the print unit. The system eliminates ink trays and chambered doctor blades and performs fully automated washing of the print unit in less than one minute.
To complement the IoD system, HAL is an off-line ink mixing station for producing Pantone colours from 14 basic inks, and contains only one pump performing a pipette-style action to measure out the very small amounts of colour needed.
DigiColor is the first ever inline "closed loop" colour system that enables digital colour adjustment to the target Delta E values during printing, at any speed, on any substrate, with any operator. It is a major step towards full colour digitization.
These innovations have paved the way for a new hybrid Flexo with "Mouvent™ Digital Technology Inside", which is the best combination of digital and DigiFlexo printing, and will be unveiled for the first time at Labelexpo. The hybrid is associated with total flexibility in high added value labels, with extremely short job setup and fast return on investment. It will be the most digitally automated press in the labels market, with the highest print quality and productivity. It opens a new era in the production of self-adhesive labels with totally new standards of productivity and profitability.
Other machines on display include:
M5 IoD/DigiColor, which transforms flexo printing into a fully digitized process. Color matching is simplified both in the REVO ECG and in spot colors environment. Changing inks in any press configuration takes a matter of seconds with no ink contact with the hands of the operator. Closed loop colour control delivers perfect colour matching on any substrate worldwide.
LB702-WB digital label printer from Mouvent, a remarkable advance in digital label production, using only 100% water-based Mouvent™ Inks, making it 100% free of VOCs (volatile organic compounds) and 100% food safe. The machine can run with up to 100 m/min on a broad range of substrates, from self-adhesive to wet-glue labelstock especially targeting applications where migration could be an issue, such as in the food industry. The LB702-WB's high print quality of 1,200 dpi leads to exceptional results on complex substrates such as textured natural wine label papers and many others. Being configured with 6 colours, the Mouvent water-based press allows for excellent ECG printing and Pantone matching. Paired with the in-house developed Mouvent™ DFE, customers benefit from easy file preparation, perfect color consistency and variable data printing for real-time customization. It all results in a combination of both technical and esthetic excellence that attendees will be able to see in real time at the event.
M1X inline UV flexo press, which delivers high performance at a competitive cost. It is a partially fixed configuration machine, 370mm in web-width, developed with automation and connectivity in mind that can print and convert a wide variety of applications in one pass.
Meanwhile, the BOBST M6 press will be the star of the Flexible Packaging Arena in Hall 11 (Booth 11A50). M6 press is a combination of in-line UV Flexo, REVO Digital Flexo and the new revolutionary V-Flower print unit, allowing for job changeovers in one minute, "on-the-fly" without stopping the press, and with up to 95% press up-time. It is the most productive press to economically produce short to mid-size runs. The M6 will feature the DigiMount™ fully automated flexo plate mounting system, which features advanced electronics for improved speed and accuracy of plate mounting.
World-class machines deserve world-class services
Visitors to Labelexpo can hear all about BOBST Services, which provide converters and printers with solutions that help them to optimise productivity and quality, while reducing downtime and environmental impact.
For example, the Helpline Plus service allows customers to connect with BOBST experts immediately as the need arises, meaning that around 80% of all technical issues are resolved remotely within two hours. Helpline Plus AR (Augmented Reality) and the Smart Headset take it to the next level, allowing customers to wear a special digital headset and the BOBST technician to virtually look through the eyes of the customer's machine operators and provide them with precise instructions on what must be done.
"This really is the complete package," said Jean-Pascal Bobst, CEO of BOBST. "The new solutions on display at Labelexpo set completely new standards to help converters and brand owners improve time-to-market, guarantee colour consistency and food packaging safety. At BOBST, we never stop innovating, and this year's event will be a very clear reflection of that philosophy. We look forward to seeing everyone in Brussels!"
Visitors can see live demos and talk with experts at Booth 3A59+58 in Hall 3, and see the BOBST M6 press in action in the Flexible Packaging Arena, Booth 11A50 in Hall 11