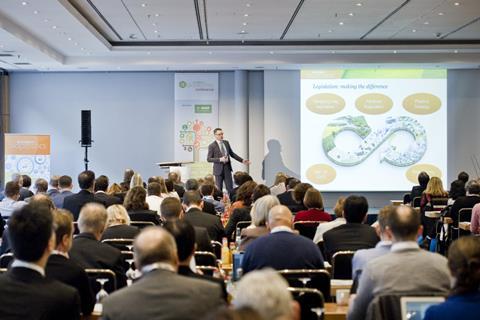 Another highly anticipated session was the presentation of the 2017 market data update shared by Katrin Schwede, Head of Communications at EUBP: "The global production capacities of bioplastics are expected to grow by 20 percent in the next five years," said Schwede.
This development was confirmed in several presentations by manufacturers discussing their plans for starting or scaling up production. The conference also featured some of the biggest developments in innovative materials and building blocks for biopolymers of the past year, such as the water soluble, biodegradable thermoplastic pellets made from milk protein introduced by Lactips. Corbion presented their progress in the development of a biocatalyst process to produce FDCA from sugars as monomer for the production of PEF. PEF is a new biopolymer that is similar to PET, i.e. fully recyclable, but 100 percent bio-based, and with better barrier properties capable of prolonging shelf-life and thus reducing food waste. According to one of the main producers, Synvina, a joint venture between BASF and Avantium, PEF is expected to enter the market in 2020.
A session dedicated on mechanical recycling explored the end-of-life options of bioplastics and confirmed that biopolymers have no negative effects on existing waste streams. Against the background of the on-going revision of the EU waste legislation, the panelists agreed that greater investments in the waste sorting infrastructures are key to improving the quality and volumes of recycling in Europe. At the same time, increased efforts in the harmonisation of standards, certification, and labelling of bio-based and biodegradable plastics are necessary in order to communicate the benefits of bioplastics in a transparent manner. During the conference, the Germany-based certification body DIN CERTCO and EUBP celebrated 20 years of the Seedling logo, a label for industrial compostability of products according to the harmonised standard EN 13432, that contributes to increasing international awareness and recognition of certified bioplastic materials as mark of quality and to helping producers and consumers to make informed choices.
MAIP Slr, an Italian plastics producer, was awarded the 12th Global Bioplastics Award, hosted by the bioplastics MAGAZINE, for the development of their bio-technopolymer 'I am NATURE', a special PHBH-based compound suitable for high-temperature applications such as a newly designed series of light switch cover frames by ABB.
The 12th edition of the European Bioplastics Conference was yet another successful meeting of the industry with over 330 participants from 200 companies and 30 countries connecting and catching up on the latest developments and trends in the bioplastics industry in Europe. 36 companies showcased a great diversity of the newest products, materials, and applications at the exhibition alongside the conference. European Bioplastics extends a special thank you to the sponsors of this year's conference: BASF, BIOTEC, DIN CERTCO, NatureWorks, Sulzer, and Total Corbion PLA, for their support.
More info: