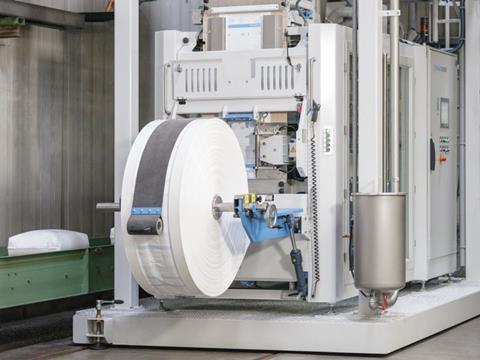 BEUMER Group will showcase tailor-made solutions for consumer goods – from the filling of bags up to packaged product stacks ready for transport, including control and customer support.
At booth 121 in hall 1 BEUMER Group will show its competence in the field of packaging technology. The full liner delivers everything from one single source: The customer has only one single point of contact and avoids vendor interactions. The system supplier dimensions the performance of the single machines and components as well as the high-level control in an optimum way. Thus the operator receives a complete line with optimum throughput.
The BEUMER fillpac R filling machine fills bulk materials such as cement or building materials and other industrial pulverised goods into bags in an efficient and gentle way. It can fill very fine to very coarse materials into different bag formats and types, such as valve bottom bags and flat valve bags. BEUMER Group has now complemented the rotary filling machine with a BEUMER bag placer and a ream magazine. Due to its modular design, the BEUMER fillpac R can be easily integrated and adjusted with existing packaging lines.
The highly efficient form fill seal system BEUMER fillpac FFS is used in the chemical and petrochemical industries. It forms bags from a prefabricated tubular PE film, fills them with the product of the customer and seals them. BEUMER Group introduces the BEUMER fillpac FFS form fill seal system both for the high-capacity range of up to 2,600 bags per hour and for low throughputs up to 1,800 or 2,500 bags per hour. Depending on the customers' requirements the suitable machine performance class can be selected from the extended product range. Both the BEUMER fillpac R and the BEUMER fillpac FFS are equipped with a specialised weighing unit which ensures the correct quantity of the filled material.
In the next phase, the bags are stacked on pallets. For this, BEUMER Group offers the BEUMER paletpac high-capacity palletiser. It stacks even sensitive and valuable products as well as products with special flow characteristics in a gentle and efficient manner. Depending on the product requirements, it can be equipped with a clamp-type turning device or a twin-belt turning device.
BEUMER Group offers the BEUMER robotpac, a space-saving articulated robot, for palletising cartons, boxes, canisters or trays. This fully automatic articulated robot is able to solve even complex palletising and de-palletising challenges reliably and efficiently. BEUMER has developed fully automatic gripping systems that are easily exchangeable and suitable for each item to be packed.
The BEUMER stretch hood high capacity packaging system is at the heart of the packaging lines. In logistic centres for example, it covers the mixed pallet of merchandise with a highly elastic film hood, but also filled and palletised bags, boxes of detergent, buckets of paint or storage jars stacked on pallets. During transshipment and outside storage, the merchandise is protected reliably against environmental influences such as sunlight, dirt and humidity. This is important for the operators who need their products to be transported reliably and in perfect condition to the customers.
The BEUMER bag-in-bag offered by the system provider packages one or several filled paper bags quickly and reliably in a weather-resistant plastic film. This ensures that the contents are perfectly protected against moisture, dust, insect infestation and other environmental factors when they are transported or stored. The system can be easily integrated in existing filling or packaging systems.
BEUMER at the Fachpack 2018: hall 1, booth 121