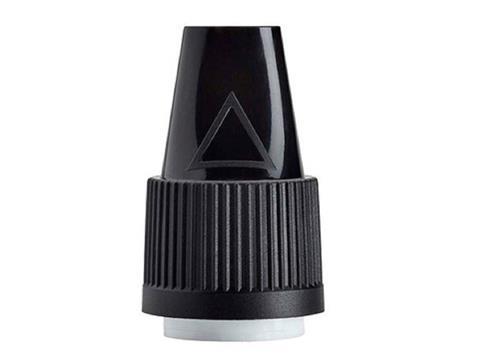 When BERICAP, one of the world's leading plastic closure manufacturers, exhibit at the Packaging Innovations trade fair in Birmingham from February 28th to March 1st, several product innovations and new developments will be presented.
The products at stand A49 place their focus on consumer convenience as well as sustainability, while fulfilling customers' expectations towards weight-optimized, high performance packaging. Depending on application, the closures must not only ensure that the container is closed and tightly sealed, but also protect its contents against product piracy whilst complying with the highest technical safety standards.
BERICAP will be introducing closure solutions that surpass the usual standards for new packaging solutions, such as 60mm and 63mm closures and the e-smoCapTM for e-liquids, alongside advances in its tried-and-tested closure solutions for canisters, metal packages, pesticides, lubricants, sauces & dressings, edible oil, food and beverages.
BERICAP closure for e-cigarette 10ml refills
BERICAP e-smoCap™ is a childproof closure that allows an easy refilling of e-cigarettes through a long, narrow drip nozzle inside the closure – a technique that can be applied to other product sectors where precision dosing is of paramount importance. The closure complies with the Tabacco Product Directive and is ISO 8317 CRC certified by the French Laboratoire National d'Essais. A tamper evidence band ensures that it is tamper-proof, thus providing a secure use for end consumers. BERICAP UK has recently invested in a completely new production line to manufacture BERICAP e-smoCap™vape bottle caps for the UK market in order to be as close to its customers as possible.
Lightweight yet user-friendly closure solutions for still water: BERICAP HexaLite® for 26mm and 29mm PET neck
BERICAP initially developed lightweight closures in response to the market demand for closure solutions which placed emphasis not only on reduced weight, cost reduction and improved carbon footprint, but also on end consumer requirements. BERICAP HexaLite® 26/13 and 29/13 mm allow convenient opening due to an improved, high value appealing grip height while maintaining the closures' light weight, resilience and sustainability demands. The new caps are virtually the same weight compared to the lower height variants, but look more substantial and are easier to handle for consumers. All BERICAP HexaLite® closures have a cut and folded tamper evidence band that breaks easily on first opening. N2 dosing is also feasible. The 29/25 and 26/22 neck types are approved by CETIE (International Technical Center for Bottling and related Packaging).
Consumer-convenient closures for all major PET neck types
BERICAP offers closure solutions for all major PET neck finishes for carbonated soft drinks, mineral water, juices and dairy products. Most PET bottles used for juices or dairy products have a 38mm neck finish. However, since drinking from a 33mm neck is much easier from the consumers' point of view, BERICAP also offers a 33mm closure that can be used for cold, cold-aseptic or hot filling and provides less weight for both closure and neck - compared to 38mm neck and closure solution.
The latest product innovation is BERICAP NEO 30/17, a weight-optimized closure for the well-known neck finish PET 30/25. BERICAP NEO provides high value appearance, easy application, a good grip, safe tamper evidence and low, consumer-convenient removal torques – attributes that make it a closure with a positive package experience for the consumer.
New BERICAP Sports Closure Crystal
The new sports closure BERICAP Crystal is a 2-piece sports closure allowing a two colour aesthetic appearance with a transparent PP shell and a coloured HDPE pourer. It is equipped with a tear strip, offering tamper evident functionality for the over-cap. Additionally, the closure will be available as a bridge-only version where the bridges can be broken by moving the over-cap upward with the thumb. The reactive Double Galileo hinge allows an opening angle of 180°, so that the over-cap no longer comes into contact with the users' cheeks. The hinge is compliant with BSDA safety standards. BERICAP Crystal is available for the PCO 1881, 29/25 neck and feasible for a 26mm PET neck.
New closures for the food market use
PET is also used extensively within the food market, therefore BERICAP provides a wide range of closure solutions across all major neck finishes for edible oil, vinegar, soya sauce, ketchup and spreadable products. For liquid food products like edible oil or vinegar, BERICAP 2-Flow has been developed. The dual spout design enables both high flow and reduced flow rate control. From the consumers' point of view this is of interest when – for example – edible oil is required with a large flow for cooking or with a small flow for salad dressing.
BERICAP 2-Flow EV 21/20 for edible oil, soya sauce and vinegar
For spreadable food products like ketchup, mayonnaise, chocolate sauce or honey, BERICAP's portfolio contains hinge closures with a range of dispensing valves. Unlike most Silicone Valves in the marketplace BERICAP Valves are made from TPE. The PP based closure can be recycled together with the TPE valve material. Easy separation of both materials due to different densities during the recycling process is ensured. The BERICAP valve range are fully approved for foods, including unique options for fat-based products.
Product piracy protection
Product piracy and product counterfeiting are sensitive problems with serious consequences when it comes to chemicals of high value, especially in the agricultural sector. In order to protect refills from being adulterated or tampered with, BERICAP closures proven tamper evidence bands including the folded and slit solutions. These are extremely difficult to manipulate and provide visual evidence in the form of broken bridges if the closure has once been opened. Other safety options include customer-specific closure designs, which can be complemented by additional security labels fixed across the closure body and tamper evidence band.
Laser Printing
For further counterfeit protection, BERICAP developed a special protection system using Laser Printing. This allows a logo to be printed across both the closure body and the tamper evident band. Printing on uneven surfaces is possible. As soon as the closure is opened, the security band breaks and the logo is "destroyed", making it obvious that the bottle has already been opened.
Closure with side laser print for counterfeit protection
Besides the new products, BERICAP will be focusing on the significant increase in capacity especially in the UK, where both factory production capacity and personnel have recently been considerably enlarged.
Packaging Innovations is the UK's largest packaging trade fair offering a unique mixture of suppliers, innovative products and educational content. From leading global brands and retailers, to innovative start-ups, exhibitors and packaging procurement experts can meet and find out the best and most innovative packaging solutions.
BERICAP at Packaging Innovations, National Exhibition Centre, Birmingham, February 28th - March 1st, stand A49
More info: