In response to demand from the industry for more sustainable printing solutions, BASF recently announced the "PRETHINK INK" network – a value chain collaboration that seeks to encourage the use of water-based inks. We spoke with Tjalle Hijlkema, marketing manager for flexible packaging at BASF, to learn more about the project and the importance of water-based inks to the success of packaging sustainability.
---
Could you introduce the PRETHINK INK concept?
BASF's long-term business success is closely linked to creating value for the environment and for society. In terms of the printing and packaging industries, we are tackling today's and tomorrow's challenges with a variety of different approaches, such as chemical recycling, bio-based and compostable polymers, biomass balance products, and – last but not least – solutions for water-based inks and adhesives.
PRETHINK INK is a result of the realisation that solvent-based ink technology is the standard for the flexible packaging market, even though more environmentally friendly water-based technology now offers comparable performance at comparable costs.
We want to contribute to driving the switch to water-based for this industry. This is why we started PRETHINK INK together with our first partners Quimovil, Comexi, Silbo and NNZ: a collaborative network dedicated to raising awareness, debunking myths, and sharing experiences about this technology.
In your view, should the industry be moving towards water-based inks?
Water-based inks reduce volatile organic compounds (VOC) entering the atmosphere improve health and safety in production and contribute to reducing the packaging's carbon footprint.
The technology levels of all actors in the value chain have progressed significantly since it was introduced into the market and today, flexible packaging can be printed with water-based inks without compromising on quality or performance.
Besides the technical challenges which have been overcome, another tangible benefit can be the insurance costs for printers: our network partner Marcin Śpiewok has managed to reduce them significantly for his company Silbo in Poland because they did not have to deal with flammable solvents anymore.
The current market trends are moving towards more sustainable solutions and the flexible packaging industry is no exception. If you look at paper & board applications, water-based technology has been in use for a long time now – we are convinced it is only a matter of time until the shift to the more sustainable and safer alternative will also happen for the flexible packaging market.
As Len Boot from our network partner and packaging specialist NNZ in the Netherlands puts it: "Water-based ink technology is a win for each stakeholder: printers, converters, and brand owners can all rely on high-quality printing, while the consumer and regulatory bodies can rely on food safety and compliance."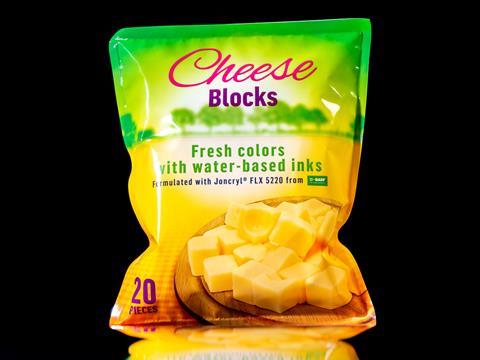 In your experience, how does the switch from solvent-based to water-based inks work?
From a purely technical perspective, it can be done on any flexo machine that is currently printing with solvent-based inks and requires a couple of adjustments that are not too challenging.
For example, due to the higher pigment loading in water-based inks, less ink should be applied, which translates into the need for finer aniloxes. The volume of air that goes through the interstation driers needs to be increased and online corona treatment needs to be applied on the "fresh" foil.
From talking to PRETHINK INK network partners such as Comexi and Uteco (both OEMs) and Saueressig (supplier of rotary tools), who deal with these issues all the time, we know that it can be done relatively easy and fast.
Are there any drawbacks to the use of water-based inks?
One of the issues is the changes required in actually handling the machine, or what I call "housekeeping". With water-based inks, the machine needs to be cleaned immediately after printing. If water-based inks dry, they cannot be dissolved again like solvent-based inks. This is a change of habits of the people working on a printing machine that can be challenging.
Therefore, it not only requires proper knowledge and skills but also real change management from leaders and the will to cooperate from the production workers. Our partner Silbo had to overcome significant resistance from the workers to make the switch work, which shows that you need not just vision but also determination.
R&D director Isolde Bachert from our partner Follmann recently described the challenge as follows: "Printers at the press have worked for years or even decades with solvent-based inks. Some of them even seem to like the smell of solvents. In my opinion, training to explain benefits is one element, close on-site support the other to give the printers a good feeling to manage the required changes."
Why is collaboration so important to projects like this?
In today's complex market realities, real change requires the whole value chain to collaborate, from raw material producer to brand owner – and even beyond, if you consider the question of reusing and recycling packaging.
We can only have an impact if we work together with like-minded partners who bring in their specific expertise and experience. It is by combining our expertise that we will reach better solutions and advance the technology further.
Many brand owners have realized this and are now reaching out to include raw material producers like us and several other suppliers in their discussions on packaging design. With PRETHINK INK, we are reinforcing this new mentality and accelerating the change that is already happening.
Things actually went even faster than we were expecting. Since we started the network in July, half a dozen new partners already joined (who will be introduced one after another) and we are in talks with several more.