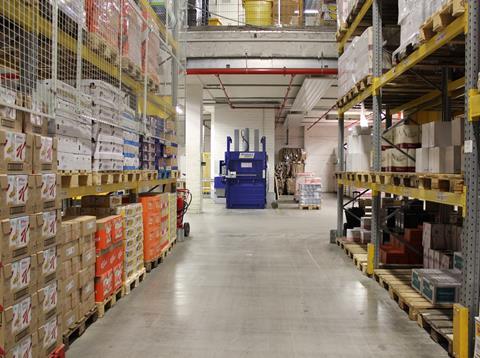 Strautmann is looking back on a very successful exhibition in Stuttgart from March 13th-15th. Numerous LogiMat visitors came by at the booth in Hall 3 A61.
The "AutoLoadBaler" a baler with automatic collection and filling system was the major attraction. The visitors were able to get a realistic impression of "modern disposal" with numerous LIVE-compactions at the stand. The topic of modern, economical and lean disposal was also shown on a model construction which compared the disposal solution AutoLoadBaler and press container.
Time-saving disposal
The centrally positioned AutoLoadBaler with collection trolleys optimizes the disposal. Up to 4,000 hours are possibly saved with the AutoLoadBaler.
Collection trolleys are placed directly at source where cardboard packaging accrues. The employees just have to put the cardboard packaging into the collecting trolley and insert it in the baler. Afterwards employees just push one button to start the baler and go back to work. During this process, the inserted collection trolley is emptied automatically. A scissor lifting table pushes the bottom of the collecting trolley upwards. The cardboard is gripped by the rotor and then conveyed evenly into the press chamber. The collection trolley thus is emptied by itself. With 53t pressing force, the cardboard is pressed into a 400kg bale, being ready for high revenue marketing.
On the exhibition, also the BalePress 10 has been set up for film and cardboard disposal. This small baler compacts material with 100kN pressing force. Central positioning and runway savings allow the small and compact baler giving a success guarantee. Even with the compacted film and cardboard bales customers achieve higher revenues.
Strautmann balers and briquetting presses optimize disposal in the areas of warehousing, logistics, retail and beverage industry for more than 20 years.
More info: