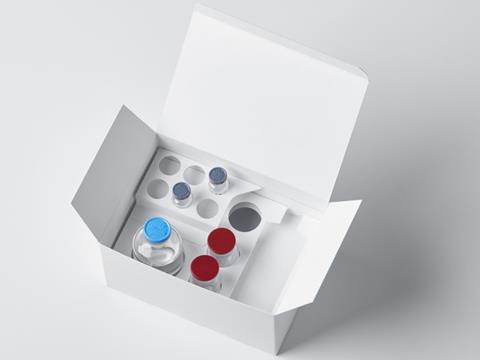 Customised individual solutions for packaging for the pharmaceutical and healthcare sector are gaining in importance. At the same time, pharmaceutical companies are focusing on smaller batch sizes and carefully considered packaging services.
For this reason, products and services for individualised and personalised packaging solutions were also in focus in the case of August Faller GmbH & Co. KG at Pharmapack Europe 2017 (Stand M68) in Paris. The portfolio of the pharmaceutical specialist for short production runs ranges from standard folding boxes, special designs for clinical trials through special labels with integrated information carriers such as patient alert cards, to packaging services for small to medium quantities.
The trend towards tailor-made solutions for pharmaceutical packaging and smaller batch sizes is supported by the growing number of orphan drugs and "companion diagnostics" products, where tandem medication testing is offered. Studies confirm this development and assume that at least one third of all research projects in the pharmaceutical industry will include a component for individualisation. August Faller GmbH & Co. KG offers innovative packaging solutions and individual services for its customers worldwide. This includes the production of labels using a digital printing process at the highest level of quality. Faller guarantees 100% control by means of camera inspection systems. In addition to standard packaging, Faller also manufactures special designs for clinical trials or medicines for rare diseases, for example with internal compartments for protection against breakage, labels for documentation in the patient's file or wallets for tablets or capsules. As a supply chain partner, August Faller also offers packaging services such as the assembling and manual packing of medicines for clinical trials in its PharmaServiceCenter at its Großbeeren location.
Last but not least, increasing patient expectations are driving the demand for individualised packaging units, shorter development times and cost-effective clinical trials series. "The industry is increasingly confronted with self-assured patients with a greater interest in further information about the product, treatment, and medical care tailored to their individual requirements. In the future, business models will be needed that combine pharmaceutical products with an additional service and thus provide the customer with real added value," says Dr. Daniel Keesman.
Among other things, the August Faller Group develops compliance-supporting packaging solutions that ideally meet the current communication needs of industry, doctors and patients. With smartphones, personalised patient information can be played back via video message, for example by scanning printed QR codes or by an automatic Internet connection via an embedded NFC chip. Portable cards as part of the medication package, such as patient alert cards, medical alert cards, organ donor or implant cards are becoming more and more important for patients. For this application, the August Faller Group already offers versatile packaging solutions, and presents their products and their latest developments to the industry.
More info: