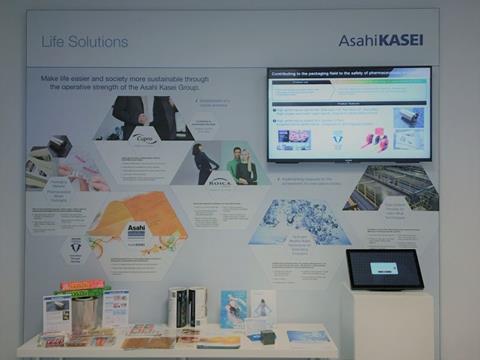 After the founding of Asahi Kasei Europe GmbH (April 2016) and the opening of the Asahi Kasei R&D Center in CHEMPARK Dormagen (October 2017), the company has built on its marketing and sales activities.
The newly designed Asahi Kasei Europe Exhibition Center in Düsseldorf was completed at the start of December 2017. This exhibition space at the European Headquarters presents visitors with products and technologies for the automotive, medicine and health, renewable energies and lifestyle markets.
Exhibits, infographics, interactive touch panels and videos demonstrate the solutions from the Japanese technology group Asahi Kasei for the world of tomorrow. Asahi Kasei Europe presents the topics of "Automotive Solutions", "Life Solutions", "Health Care Solutions", "Corporate" and "Corporate Citizenship and Community Fellowship", to the public.
Managing Director Hideki Tsutsumi said at the opening: "Asahi Kasei Europe is your innovation partner with leading technologies. At the Asahi Kasei Europe Exhibition Center we present our businesses, products and solutions. We will grow together with the European industry by providing value through collaboration and synergies."
"Life Solutions"
"Life Solutions" are applications that enrich daily life and make it easier. This includes the efficient use of resources with innovative packaging solutions, which contribute to the reduction of food waste, as well as plastic sealing films for pharmaceutical packaging. Asahi Photoproducts, a recognised pioneer for innovative print technologies and sustainable packaging solutions that are in harmony with the environment, is also presenting 40 years of development work in the area of flexible printing plates.
Cotton-based fibres or plastic-based technical fibres for elegant clothing or sportswear are standing in the center of the room: Mannequins wear a suit and a dress using fibres from Asahi Kasei, where elegance meets leading know-how in the area of fibre technology. The trademark CuproTM stands for a biodegradable cotton fibre, which is produced in an environmentally friendly production process, in which all production waste is reused. ROICATM is a sustainable elastic technical fibre, which is applied primarily in functional and sports clothing.
As a leading company in the area of ion-exchange membranes and chlor-alkali electrolysis technology, Asahi Kasei has proven technologies, which can be used to create hydrogen out of surplus energy from renewable energy sources. Constant further development of this technology makes this company one of the leading companies in the field of energy storage and in the realisation of a hydrogen society. The showroom explains the details of this forward-looking project.
More info:
https://www.asahi-kasei.eu/