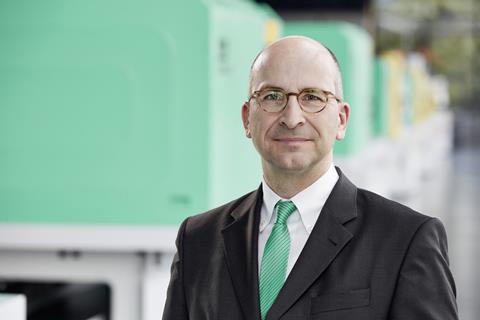 How to integrate specific customer requests on-line into the ongoing injection moulding process thanks to a clever product and tool design, is shown at the Hannover Messe 2018 by the practical example called "tension straps". A turnkey system related to the vertical injection moulding machine Allrounder 375 V produces elastic tension straps on demand and nevertheless economically in series in different versions - flexibly from shot to shot, completely without machine conversion. In industrial practice, such an application is ideal for cable assembly in the automotive industry, for example.
In the application demonstrated at the trade fair, visitors can choose between 40, 60 and 80 centimetre long elastic tension straps in three colours and with three different end piece combinations and can enter the variant of their choice directly at the terminal. The requirements are then transferred to the central Selogica control system via the OPC UA communication protocol. The strap is cut to the selected length from a roll and the ends are spliced using a plasma process. The flexible inserts are handled by a six-axis robot that is compactly housed within the machine's installation area. The four-cavity mould on the injection moulding machine features two cavities each for the hooks and eyelets. The two ends of the strap are placed into the cavities in accordance with the order. The two corresponding cavities are filled via hot-runner nozzles during overmoulding. This allows the hook/hook, hook/eyelet or eyelet/eyelet combinations to be produced in a cycle time of around 40 seconds. The finished tension strap is finally taken from the mould by the robot and removed from the system.
Industrial additive manufacturing
A Freeformer and a variety of functional components will be used at the Hannover Messe 2018 to demonstrate that Arburg Plastic Freeforming (APF) is not only suitable for prototyping, but also for the industrial additive manufacturing of functional components in particular. Visitors will therefore be able to examine the parts "hands on" at an interactive station and convince themselves of their functionality and quality. These will include cable clips made from a standard PP (Braskem PP CP 393). The delicate yet durable structures feature the click effect typical of injection moulded parts thanks to a film hinge.
The Freeformer is an open system that provides independence for users: They can qualify their own original materials and optimise the freely programmable process parameters specifically to their specific application. One huge advantage in this context is that original materials certified e.g. for medical technology or aerospace applications can be used. In addition to amorphous standard granulates such as ABS, PA and PC, the ever-expanding range of materials qualified by Arburg includes, for example, elastic TPE, medical grade PLLA, PC approved for the aerospace industry and semi-crystalline PP.
More info: