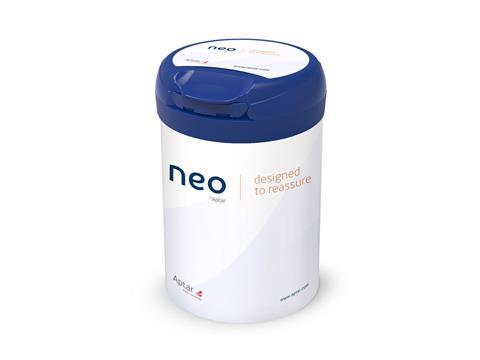 Aptar Food + Beverage has launched NEO, a tamper-evident closure for infant formula that features a customizable in-molded scoop for "precise and specific dosage."
This innovative closure integrates a flex-band that can mold itself to fit a variety of containers. The flex-band was designed to guard and protect the infant formula from insects and has reportedly been validated by several independent laboratories. Its low application force is suitable for a mechanical or manual application, and the centering mechanism apparently helps to easily center the closure onto the can.
Aptar completed a number of studies to better understand the consumer journey, pain points, and the intimate relationships between the package and the user. As a result, NEO was designed to be handled with just one hand, thanks to its shape and robust hinge. Upon opening the closure, the consumer will see that the customized scoop is not touching the infant formula, promoting less contamination.
Aptar says that, with one hand, consumers can unlock, use, and replace the scoop back in the holder, keeping feeding time clean and easy. Once finished, the lid can be resealed by pressing the press-to-close area. It is the company's view that the audible click gives consumers peace-of-mind that the container is closed and the infant formula is protected.
According to Aptar, the product is produced in a protected area that shields the manufacturing process and enhances safety and hygiene measures in an effort to keep products free of any contamination.
NEO comes in two diameters – 99 mm and 127 mm – which can be sealed onto all standard infant formula containers, whether they are metal or composite. Aptar also says that the product allows companies to choose between three different manufacturing finishes: embossed, in-mold labelling, or bi-injection molding.