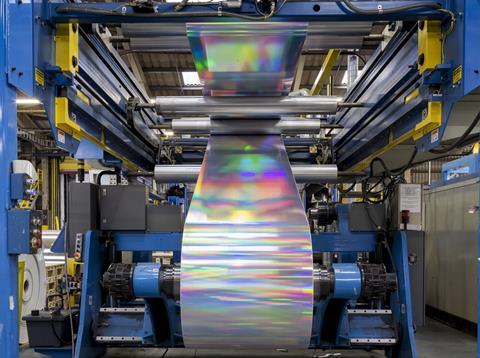 API is witnessing an uptake in demand for its innovative Transmet™ solution as brands look to reduce the environmental impact of their packaging.
Transmet™ is API's class-leading film-free laminate option for paperboard packaging, which has all the benefits of traditional metallised polyester carton board laminates, but without the film content and is recyclable through normal waste streams.
It allows brands to reduce their environmental impact, without compromising on stand-out shelf appeal, which ultimately attracts customers.
API Group recently surveyed a cross section of brand managers and designers about their attitudes towards plastics and sustainability in packaging*. Almost 90% of respondents believed that sustainability in packaging would be important or very important over the next 12 months – 51.4% believed it to be very important.
The results also revealed that 72.9% see the introduction of sustainable features and packaging to their products as an opportunity for growth, with more than half (51.4%) already creating packaging with sustainable features.
With brands increasing their focus on recyclability, Transmet™ has grown to become API's largest product line for laminated paper and board across the UK, Europe and Americas, with 2017 proving to be a record breaking year.
Pioneered at API's Amsterdam site in the 1980s, significant investment over the last five years has seen the firm's Transmet™ capabilities increase across the Group, with its Stockport site now the major European hub for the finished product.
Richard Burhouse, Commercial Director at API, said: "This significant shift in focus in the retail and packaging industry meant 2017 was the busiest year yet for our Transmet™ film-free laminate.
"Its development has been driven by increasing demand for a high-quality film-free finish that provides brand owners with a fully recyclable end product which still offers shelf appeal to customers.
"We've used our industry expertise and technology to create a vertically integrated platform which can service our customers globally."
The Transmet™ process involves the lamination of a special PET film, which is then removed, leaving a deposit of aluminium on the surface of the board.
API produces a wide range of laminate finishes including Holographic Transmet™ which enables brands to select the laminate style and effect that adds unique visual impact to their product's packaging.
In addition to its green credentials, benefits of Transmet™ also include a high level of gloss finish, no risk of delamination and it is flexible enough to be used to 'metalise' thin paper without curling – making it an effective solution across a wide range of applications.
Richard added: "As a leader in this field, with unrivalled technology, experience and capacity, we are extremely proud of our Transmet™ solution and are fully committed to continued development of packaging enhancement solutions, that provide stand-out shelf appeal while being safer for the planet."
More info: