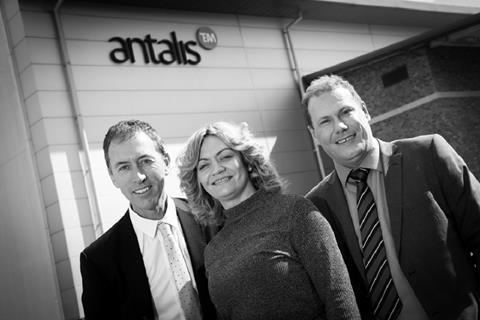 Antalis Packaging is celebrating the successful first year of its new Dartford division, with the South-East office recording some major wins for the company.
Antalis, which is the leading paper, packaging and visual communication merchant in Europe, opened the packaging division in Dartford last year to service the packaging requirements of its customers in the South East of England.
In the last 12 months, the division has enjoyed a strong start to business in Dartford, with the addition of 66 new clients, as businesses across the region take advantage of the company's free Smart Audit, and then look to make the most of Antalis' vast and varied product portfolio.
Aligned to its company-wide 'Challenge Antalis' initiative, the free audit sees Antalis' raft of packaging experts visit customer premises and make recommendations for improvements. This has already made a big impact on customers, with one being able to reduce the cost to pack items by a huge 70% and another able to downsize their warehouse by as much as 30%.
Kerry Rickwood, regional company packaging manager for Antalis, said: "It has been an incredible start for the new division, I am so proud of everything we have achieved in year one. We knew that there was demand for the division in the South East, but the response we have seen has been fantastic. In our first 12 months, we have seen a substantial number of businesses take advantage of our free Smart Audit, and this has allowed us to grow the business substantially, welcoming 66 new customers as a direct result of these audits.
"More importantly, we have seen our efforts make a real difference to local businesses, which is such a satisfying part of what we do. We transformed the packaging for a crystal company that couldn't sell their lamps online because they always arrived broken. By providing our foam-in-place system we solved their problem and now they can send lamps all over the world with no damages. We also made friends with a lot of warehouse workers, because of the work we did in demonstrating cost savings through the investment in a pallet wrapper, this means they no longer have strain themselves wrapping pallets by hand."
The success of Antalis Packaging's new Dartford division's business has been built on Antalis' renowned customer service and three key packaging product areas; cushioning and void fill, from bubble wrap to systems which produce paper or air on demand; boxes, both standard stock and bespoke solutions, and packaging films, particularly stretchwrap film, in which Antalis leads the industry.
In addition, the division provides a wide range of packaging related products for businesses, including; tapes, mailroom supplies, and, from the other areas of the Antalis business, supplies such as paper and signage products.
Kerry added: "The first year has seen us build a successful business, with some incredibly talented people, creating an amazing atmosphere in our new office. Now, I cannot wait to grasp the opportunities to help solve companies' packaging challenges in the next 12 months."
More info: