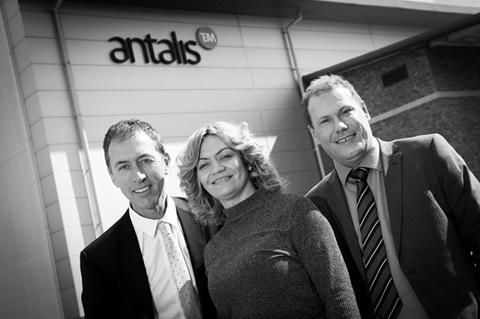 As part of its ongoing commitment to work as a trusted partner to help solve customers' packaging problems, Antalis Packaging has invested in its South East division by installing a dedicated regional sales team – a move which is already proving a hit with local businesses.
Operating out of Antalis' Dartford-based distribution centre at Crossways Business Park, Greenhithe, the team is headed up by Regional Packaging Company Manager, Kerry Rickwood, who relocated to the South East in July 2016. She has since been working to conquer the packaging challenges and alleviate the supply chain pressure-points that businesses within the region are facing.
With Account Manager, Alan Stanley, and Packaging Sales Coordinator, Nick Stevens, reporting in to Kerry, the business is now looking to further bolster the sales team by recruiting additional office-based support. This will enable the trio to spend more time with clients, offering them a more dedicated and personal service
Kerry Rickwood comments: "By working in partnership with customers, we can immerse ourselves in their warehouse operations and apply our expertise to help make a real difference to their bottom line. Whether through bespoke packaging solutions, warehouse optimisation or packaging automation, there is much we can do to help South East businesses reduce their costs, cope with seasonal demand spikes and improve the efficiency of their supply chain processes.
"We are urging businesses to challenge Antalis to solve whatever packaging problem they may be facing by requesting their free Smart Audit or contacting one of our experts."
Already, Antalis Packaging's South East team has successfully responded to a number of challenges brought to them from various different businesses.
A retailer of luxury items was struggling to sell certain delicate, high value products as his customers wouldn't pay the £175 postage and packaging that was necessary to safely transport the product. The business tasked Antalis Packaging to take one such item, a £2,000 lamp, then package it and ship it back to the retailer. Using an on-demand packaging material, the lamp was safely and securely returned and the retailer is now able to ship items like this at a reduced cost.
Elsewhere, another business found itself experiencing such rapid growth that it found its warehouse was failing to cope with the increasing demand. Here, the team was challenged to redesign the entire warehouse operation. Spending time on site, closely inspecting the warehouse requirements and potential, Antalis Packaging produced a full proposal with CAD drawings which promised to significantly improve efficiency. With the client suitably impressed, a phased implementation of the new warehouse layout is now underway, allowing orders to continue to be fulfilled throughout the installation.
Leigh Gracie, Antalis Channel Director for Packaging, comments: "I'm delighted with what the newly-formed South East team has achieved in the past six months. Together with experts from our national team, including Packaging Technologist Jason Poxon, I am confident the team is well-placed to deliver innovative solutions and increase awareness of Antalis Packaging as a helpful, collaborative partner in this area."
More info: