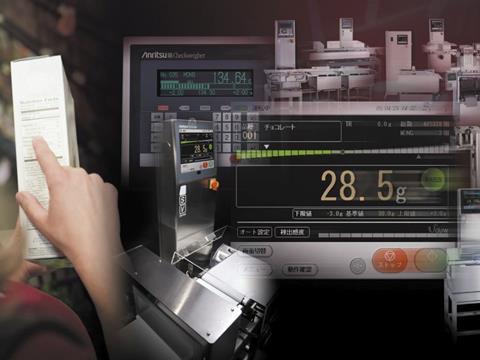 Award-winning supplier of food safety solutions, Anritsu Infivis Ltd, is reporting a spate of orders following a successful appearance at the interpack exhibition in Düsseldorf, showcasing its full range of cutting-edge X-ray, metal detection and checkweigher systems.
A global leader in food safety solutions with a facility in the UK, Anritsu has already converted six orders received verbally on its stand at the show, with several other enquiries pending for metal detectors, the XR75 Series of X-ray Inspection Systems and SSV Checkweigher.
Anritsu's UK Sales Manager, Eddie Daniels, who was on the stand at the exhibition in Germany, confirmed that one of the new customers for the XR75 and Checkweigher is a UK company, while the other two orders are from businesses based in Greece.
He said: "It was a good show for us. We had solid enquiries from the UK as well as Greece, Italy, Finland, Croatia and Turkey. There was a lot of interest in our metal detectors – the new M6 model we promoted in Düsseldorf was its first showing outside of Japan." Also at the exhibition Anritsu demonstrated the XR75 Series of X-ray Inspection Systems, in tandem with the SSV Checkweigher, on a recirculating conveyor to highlight this exceptionally versatile and robust, food safety technology that has a proven track record of detecting contaminants in a wide range of packaged goods.
The ultra-sensitive XR75 X-ray Inspection System can also identify product shape defects and packaging integrity, while reducing the lifetime cost of ownership by over 20% compared to other systems, thanks to Anritsu's Advanced Long Life Technology which incorporates low power design and longer equipment life. The XR75 provides the best contamination detection levels in the industry, is easy to use and is also easy to clean.
Sharing the spotlight with the XR75 was the versatile SSV Checkweigher Series, among the most advanced food weighing equipment of its type in the world, boasting innovative signal processing, multi-threaded filtering and improved scale resolution, to minimise 'double product errors'.
X-ray inspection systems supplied by Anritsu are renowned for satisfying every regulatory safety standard around the world. Its UltraHD technology can detect down to 0.2mm diameter ferrous, non-ferrous and stainless steel sphere at production line speeds. Anritsu's ability to detect contaminants with high accuracy, sensitivity and repeatability is unmatched in the industry.
Meanwhile, equipment that caught the eye of pharmaceutical professionals included Anritsu's Capsule Weigher, a highly accurate system for inspecting tablets, sampling, packages and small bottles. There was also software on show for data capturing and production analysis.
Anritsu designs and develops all its products in-house to support every solution with 100% confidence. Its food and pharmaceutical safety solutions have earned global recognition for their outstanding performance, capability and credibility.
More info: