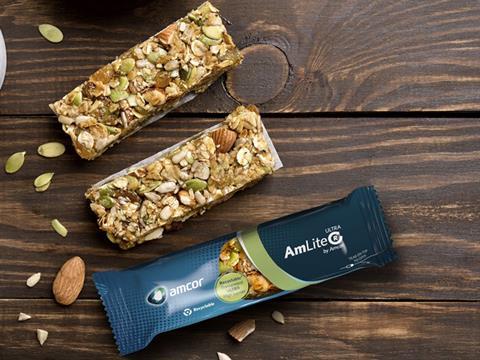 There is an urgent need to address packaging waste, a challenge that is widely acknowledged by the packaging industry, brands, and consumers. The desire is there, but the challenge has been finding solutions. A new material now makes recycling an option for previously hard-to-recycle high-barrier packaging.
Packaging plays a vital role in protecting food and medicines and avoiding product waste, yet the packaging that provides the highest levels of protection is often the most difficult to recycle. Recognising this challenge, Amcor's R&D team set to work. The result is a new solution for high-barrier packaging that is recyclable yet still preserves sensitive products.
In April 2019 the company launched AmLite Ultra Recyclable – the first laminate to use a breakthrough high-barrier polyolefin (OPP) film that replaces polyethylene terephthalate (PET) in flexible packaging. Amcor's new recyclable, high-barrier flexible packaging supports brands to deliver excellent product shelf life, transparency to showcase the product inside, and is suitable for recycling in existing polyolefin recycling streams.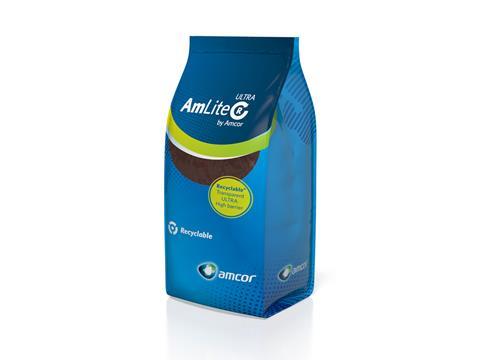 AmLite Ultra Recyclable demonstrates significant progress toward Amcor's pledge to develop all packaging to be recyclable or reusable by 2025. Amcor is also collaborating with industry partners and organisations, including the Ellen MacArthur Foundation and CEFLEX, to eliminate plastic waste and pollution at source, by contributing their expertise toward widespread recycling through packaging design guidelines and infrastructure development.
Shrinking carbon footprints
AmLite Ultra Recyclable is the latest addition to the already successful AmLite product range, born in 2015, with sustainability at its core. The original AmLite laminate already reduced the packaging's carbon footprint using an ultra-thin transparent barrier coating to replace aluminium and metallised barrier layers. Going metal-free meant the original AmLite could reduce a pack's carbon footprint by up to 40 per cent.
With AmLite Ultra Recyclable, the carbon footprint can be reduced even further, by up to 64 per cent, when compared to an equivalent barrier pack using PET and an aluminium layer.
Ultra-high barrier with recyclability is born
Until now, flexible packaging that delivers high barrier was difficult to recycle due to its mix of materials, often combining PET with barrier layers such as aluminium or metallisation, and polyolefins. This mix of materials, and therefore variety of melting points, inhibits the recycling process. The challenge was to find a suitable replacement for PET layers that could be recycled, whilst still maintaining the high-barrier protection for the products inside.

Amcor explored alternative materials such as polypropylene and polyethylene, but found that, on their own, they did not provide the properties to protect foods and pharmaceutical products from the effects of oxygen and moisture.
To overcome this, the new generation of AmLite has replaced the PET layers of the original AmLite packaging with its new breakthrough high-barrier OPP film, which provides high-barrier protection yet can also be recycled, where collection and polyolefin recycling streams exist. To test for recyclability in real conditions, it has been certified by the cyclos-HTP Institute, an independent testing lab for recyclability.
Recyclability for a wide range of products
AmLite Ultra Recyclable is applicable across a variety of segments where high-barrier is needed, including coffee, snacks, dry pet food, baby nutrition, pharmaceuticals, and home and personal care. AmLite's versatile laminate can also be provided in a variety of formats, including pillow pouches, stand-up and spouted pouches, lidding and stick packs.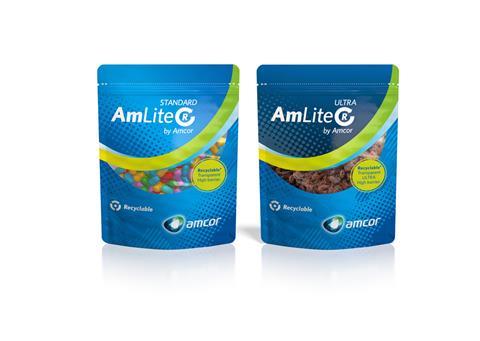 Luca Zerbini, VP Marketing, Innovation, and Sustainability said, "This unique recyclable laminate helps our customers, some of the world's largest FMCG manufacturers, to meet their sustainability goals. To meet our recyclability pledge, rather than devising individual solutions one by one, our strategy has been to create building blocks that can be used to convert entire product platforms. Our R&D team is conducting further tests with the new polyolefin film to develop future solutions for even more demanding recyclable applications, such as for retort processing."
This content was sponsored by Amcor.