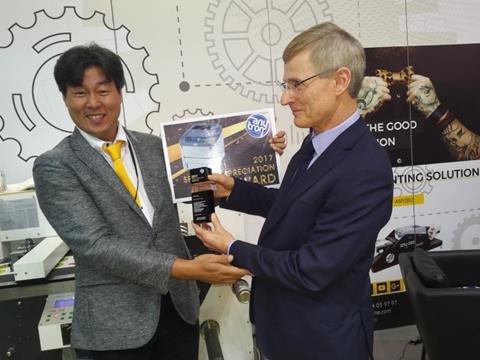 AM Labels Limited (AML), the labelling, barcoding and software solution specialist based in Northamptonshire, has been recognised and awarded for excellence of marketing and distribution of the Anytron range of innovative printers in the UK, which was presented at LabelExpo 2017.
Juan Kim, CEO, Valloy Incorporation, the Seoul based, Korean manufacturer of Anytron, presented Tony Mariani, Managing Director of AM Labels Ltd., with the prestigious award at LabelExpo 2017.
Designed to fill the gap in the market for a higher volume, professional labelling solution, the Anytron range offers innovative printers suitable for variable printing, with a multitude of industrial applications. The digital, toner-based printers make producing high-resolution, coloured labels a simpler, more affordable process that eliminates the issues of other machines on the market.
The Anytron range of digital colour label printers, available from AM Labels Limited, include advanced features capable of producing up to 5,000, high quality, durable, coloured labels in less than two hours. The convenient digital printers promote easy label printing without the need for professional technicians. Anytron printers support a wide range of paper and synthetic materials, while utilising high-capacity toners and drums in order to optimise productivity and keep costs minimal.
Tony Mariani, Managing Director, for AM Labels Ltd., comments: "This award was a very welcome surprise and much appreciated. It rewards the fantastic UK team who has worked incredibly hard to create enormous interest and demand for the Anytron range. Being so unique in the market, and very competitively priced, the range is increasingly sought-after."
"We are delighted with the progress AM Labels Limited has made in the market place with Anytron. They are true experts when it comes to understanding the vast complexities of label printing. The company has made a tremendous in-road into the market and won impressive business throughout the UK and it is an award that is extremely well-deserved," explains Juan Kim, CEO, Valloy Incorporation.
More info: