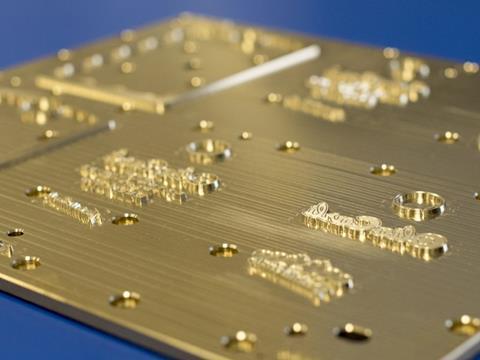 Albertin, an Italian leading manufacturer of stamping tools, flexo coating and printing plates, is presenting at Labelexpo Europe (booth 11A21) its special production of brass and magnesium In-line Flat Stamping Tool for rotary and flat printing machines.
This solution can be used to reproduce hot foil stamping, debossing, embossing, patterns and textures, and to create anti-counterfeiting holograms – all in only one stamping tool. In-line Flat Stamping Tool is compatible with PANTEC Rhino and ABG Big Foot modules.
Label printers which need to keep the production consistent with time-to-market requests, can count on high speed and accuracy of Albertin's integration with in-line flat stamping systems.
"The great advantage of this particular stamping tools is the use of an unique matrix", declares Ferruccio Albertin, CEO of the company. "This ensures not only a faster process, but also a fine and precise artwork".
Furthermore, having just one stamping tool for up to 5 different strokes, means less time in tool changing, reduced start-up time, no register errors at all, great efficiency, maximum precision, shiny and gloss results with the highest quality.
Once more, Albertin keeps its promise: Leave your mark – with technologically advanced solutions, on any kind of labels, that will catch people's attention with a single glance and add a pleasant tactile perception.
Furthermore, at Labelexpo will be shown the entire Albertin's offer: magnesium flat stamping tools and blind embossing – brass flat stamping tools through laser engraving – brass combination stamping tools – brass blind embossing tools – brass multi-level and sculptured embossing tools - counterforces – brass cylinders – graphic designing and micro embossing stamping tools – braille blind embossing tools – silicone rubber stamping tools for flat and curved surfaces – nyloprint, flexo coating and printing plates – strippable coating plates.
More info: