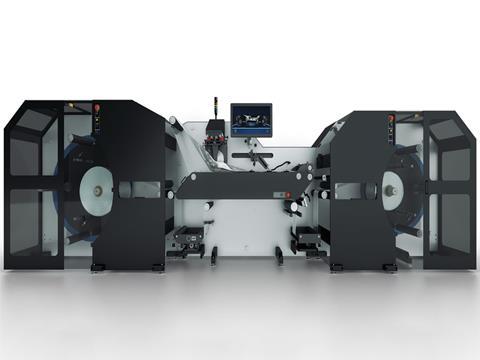 Labelling equipment manufacturer Accraply will introduce its Accraply Revolve line of modular shrink sleeve seamers, which have been configurated with the aim of making shrink sleeve seaming simpler and more efficient, at Label Congress 2021.
Accraply says that its new machines use "next-generation controls" and a human-machine interface (HMI) to simplify operations. Through the HMI, it adds, operators can access step-by-step help guides, diagnostic reporting, preventative maintenance alerts, and on-board parts ordering.
According to the company, its machine design features eliminate operator error. The new Accraply Resolve range also features a crash-proof forming table.
Joe Leonard, converting product line leader at Accraply, says: "One of the most exciting things about the Accraply Revolve line is how smoothly and easily the machines operate.
"The technology and servo motors work together to create a crash-proof forming table that restricts operators from inputs that drive the machine out of spec, which limits operator dependency and dramatically reduces the risk of downtime."
The machines will be presented to attendees of Label Congress, who will have the opportunity to explore its three new configurations, says Accraply.
The new configurations are the standard Accraply Resolve, the Accraply Resolve RT2 and the Accraply Revolve Fully Continuous. The company says each configuration has distinct, flexible options aimed at making it easier for customers to select the shrink sleeve seaming machine that is right for their business.
Justin Stovall, vice president of sales at Accraply, adds: "Time and again, our team members have demonstrated their commitment to listening to our customers' challenges and developing innovative labeling solutions.
"We are exceptionally proud of the Accraply Revolve line of machines, and look forward to sharing more with the industry at Label Congress."
Earlier this year, Accraply introduced the Sirius MK6, a heavy-duty modular labeller designed for high-speed applications, which also included a HMI for measuring equipment effectiveness.
Label Congress will be held on the 29th and 30th of September in Chicago.