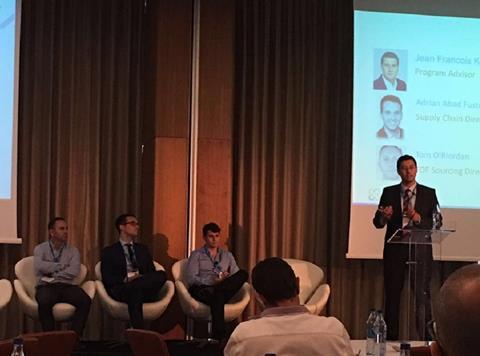 Supply Chain Wizard – a leading full-service global consulting firm specialising in serialisation and traceability, as well as supply chain strategy and operational transformation programs – and Medicines for Europe, an organisation serving as the voice of Europe's generic, biosimilar and value-added medicines industries, co-hosted their latest Pharma CMO Summit on June 14 in Lisbon, Portugal.
The gathering brought together manufacturers, CMOs, CPOs, 3PLs and solution providers for education and interactive activities centred on serialisation compliance, serialised operations and value beyond compliance – and presented a unique opportunity for pharmaceutical industry partners to make or finalise strategies for both initial compliance and optimised post-implementation operations. One of the Summit's main goals was facilitating conversation between European pharma executives and U.S. industry experts who, in order to comply with the USA's looming November 2017 deadline, have already prepared themselves for unit-level serialisation.
With more than 80 attendees, the Lisbon event featured a variety of keynote presentations on the state of the industry, with experts sharing best practices for launching and managing serialisation programs with customers and suppliers, as well as optimising CMO-customer IT connectivity. Detailed case studies illustrated strategies that have worked best and pitfalls that can be circumvented, and roundtable discussions focused on beyond-compliance value that production digitisation can bring to manufacturing operations. Finally, the event featured more than 100 speed-dating sessions providing succinct networking opportunities between vendors, CMOs, 3PLs and pharma manufacturers.
Attendees represented a broad spectrum of functional areas within their respective organizations, and were split into a relatively equal division of executives (46%) and management (44%). The resulting partnership potential was both welcome and well-received.
"Like its successful predecessors, the Lisbon Pharma CMO Summit brought together the full spectrum of supply chain partners," said Evren Ozkaya, CEO of Supply Chain Wizard. "Networking exchanges were plentiful, and yielded opportunities for partnerships, collaborations and improved business practices moving beyond the need to meet regulatory requirements, into the realm of creating smarter manufacturing and supply chain operations."
More info: