Christian Kolarik was appointed CEO of Coveris at the beginning of 2023. We talked to him about trends and developments, industry challenges, the plastics vs paper debate and more.
PE: What are the cornerstones of Coveris' sustainability vision and strategy?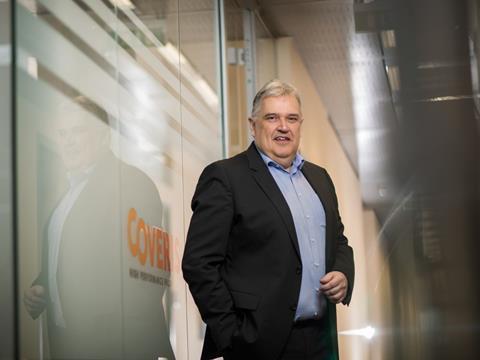 CK: The core of Coveris' sustainability vision is No Waste and therewith the ambition to avoid and reduce waste in all its forms, including litter and landfill. We built the entire strategy around this core of No Waste, focusing on the three cornerstones: no product waste, no packaging waste, and no operational waste.
We continuously introduce projects to support our vision, from the development of new, recyclable packaging solutions to films with a high level of recycled content. With our life cycle analysis tool, we can assess packaging solutions considering functionality and the sustainability footprint alike. It is our great advantage that we can offer plastic and paper solutions - using and offering the best of both.
In terms of production, we switched to renewable energy wherever possible and recently invested in the future of green energy by financing a wind park in Sweden. To facilitate recycling, we introduced ReCover, bundling all our efforts in waste sourcing, processing, and recycling to close the loop for circular plastic recycling.
Our vision follows a holistic approach. It is supported by all management levels down to shop floor levels and through Green Teams, dedicated to enhancing sustainability by implementing projects at a local level.
PE: You have had senior roles in various major packaging companies. What trends and developments have you observed over that time?
KC: True, after more than 20 years in this industry I have seen quite a few trends. But overall, I think it depends on what the term 'trend' you are referring to: there are trends regarding the point of sale (POS) display and communication of brands, the usability, the standard sizes of packaging or the biggest trend that is here to stay: sustainability. Not to forget, trends differ a lot in their respective markets; Asia is, for example, very different to the US and Europe is also very specific.
But in general, I would say that years ago the main purpose of packaging was to stand out at the point of sale, which was the birth of many packaging solutions that are still in high demand today, like block bottom bags for example. The second - and still most important trend - was the barrier and protection properties of packaging, expanding the shelf life for food or medical goods for example. The next trends were focused on usability - like easy opening, reclosing, or portioning of products. And I think of the most recent trend we are very aware of: sustainability, which reflects awareness in society. The difference here is that it is not an evolution, more of revolution, and therefore very exciting.
PE: Broadly speaking, what are the biggest challenges the industry faces now, and how is Coveris planning on tackling them?
KC: From Coveris' standpoint sustainability remains the biggest challenge. According to the latest data, only 32.5% of plastic waste is recycled in Europe, and nearly 25% still goes to landfill. That is why the EU aims to raise the recycling rate to 55% by 2030 for plastic packaging, which remains the largest source of plastic waste, according to the Economist Impact Study. This change, however, requires a holistic approach to packaging manufacturing, processing, and recycling and involves a deeper collaboration between producers, suppliers, governmental bodies, and consumers than ever before. Our latest initiative ReCover is addressing exactly that by tackling waste sourcing, processing, and recycling in a closed loop.
PE: What role will Coveris' recently set up ReCover recycling business unit play in this?
KC: With ReCover, we have launched a game-changing process, unique within the entire industry. With several high-impact projects in the pipeline, we are aiming to establish a unit, entirely dedicated to circular economy, and closing the loop.
The Blaenavon site and assets, which we acquired most recently, will serve as an important recycling hub for Coveris' Films and Flexibles operations, closing the loop for customers and for our own film production across the network. This new recycling acquisition marked a perfect start for ReCover and our quest to continuously enhance our recycling offers to our customers, truly closing the loop and bringing us closer to our vision of No Waste.
ReCover Blaenavon previously belonged to Capital Valley Plastics (CVP), a well-established PE recycler, processing post-consumer and post-industrial waste via in-house mechanical recycling extruded mostly into building films. The Blaenavon site is equipped with the latest state-of-the-art mechanical recycling technology, with an annual capacity of 20k tons.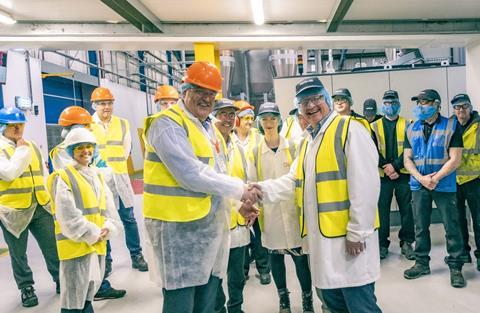 The second site, ReCover Louth uses ground-breaking technology to recycle printed polyethylene (PE) films. Supporting Coveris' No Waste vision and wider packaging sustainability frameworks in the United Kingdom and European Union, ReCover Louth creates a new lifecycle for printed PE packaging films from post-industrial waste (PIW) sources.
PE: Where does Coveris stand on the 'plastics vs paper' debate?
KC: Paper is clearly on trend now and the demand for paper solutions is steadily increasing. We have over 30 years of experience in the production of paper packaging and have expanded this business area through investments and acquisitions. All of this is the basis for the innovations that we are launching in the paper sector, such as a recyclable paper packaging with very good barrier properties against moisture or grease.
As a result, Coveris Group set up a new Paper Business Unit in March 2022 - which already accounts for 30% of sales. It does not, however, represent a departure from flexible packaging materials and plastic-based films for Coveris. Coveris is convinced that it can offer highly functional and truly sustainable packaging solutions based on both plastic and paper. We will continue to set new standards in sustainable plastic packaging as well. For example, we recently launched a beverage shrink film that consists of over 80% recycled materials and developed fully recyclable flexible rice packaging for Aldi UK.
From Coveris' perspective, it's not about choosing between paper or plastic, it's about finding the best, most eco-efficient and best-performing packaging for the respective product - without any limitations in materials.
PE: Can you give us an outlook on how you're planning on taking the company forward in the months and years to come?
KC: In 2022, one year ahead of schedule, Coveris completed its strategic realignment phase, following the sales of the Rigid and Americas divisions in 2018. Today, Coveris is recognised as one of the most advanced packaging companies in the region.
After taking over the role of CEO in the beginning of January 2023, my main focus remains on continuing Coveris' international expansion and, above all, further advancing our sustainability strategy. We are ideally positioned to continue our successful development and to further raise our profile. Our strong commitment to sustainability with our No Waste vision and our recently established ReCover Recycling Business Unit, helps not only to consistently avoid product, packaging, and production waste, but is also the driving force behind our research and development work. In combination with our state-of-the-art technology, our investments, and our ambition to expand, we aim to continue to grow sustainably - in both the paper packaging and plastics sectors.

If you liked this article, you might also enjoy:
The Lidl approach to packaging sustainability
How did Brazil achieve its 100% aluminium can recycling rate – and can it be replicated in the EU?
Experts have their say on the EU's Packaging and Packaging Waste Directive revisions
A deep dive into the most important packaging sustainability trends and solution