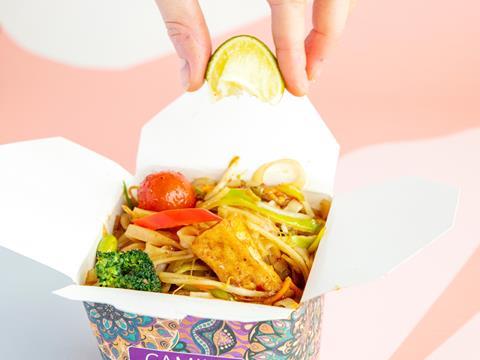 It's no secret that the food delivery sector has seen unprecedented growth during the COVID-19 pandemic. This particular channel brings with it a host of both new and existing sustainability, logistical and cost factors for the packaging industry. To break some of these down, we caught up with Brody Sweeney, CEO and founder of Camile Thai.
To start us off, please could you introduce your company to our readers?
Camile Thai Kitchen is the UK and Ireland's fastest-growing Thai food chain, serving the niche market of healthy, gourmet takeaway food. Camile was founded in 2010 with a vision to offer consumers a range of delicious, guilt-free alternatives to the traditional food and home delivery options available. With 40+ sites, we recently launched in the US, opening sites in Chicago and Austin rolling out a cloud kitchen concept only.
Broadly speaking, how has COVID affected your business model?
The whole restaurant industry truly felt the impacts of COVID-19, and we were no exception. Our dine-in business found itself closed the majority of the 2020 year, and into 2021 in many areas. As a result, like many other restaurant businesses, we focussed on our delivery and collection business.
Thankfully, due to our restaurant location strategy, our early focus on food for home delivery, and forward-thinking investment in technology we managed to not only survive but thrive. We focussed on great service and improving our digital ordering platform.
At the end of May 2020, Camile launched a lower-cost franchise model which targeted venues such as hotels, pubs, and restaurants that had been forced to close due to lockdown measures, but which had commercial cooking facilities that could be converted into "Cloud Kitchens" for home delivery, even while they remained closed.
Cloud, or "ghost", kitchens have really aided our delivery service, and this innovation is definitely something we will continue to use in the future. We have been very lucky that 2020, and indeed 2021, provided us with such great opportunities for growth.
Your company has invested in drone delivery – could you tell us more about this and how the process works in practice?
We were the first restaurant brand in Europe to deliver food by drone. Our drone delivery service has been provided by Manna Aero, headed by Bobby Healy, who began trialling in Oranmore, Co. Galway. It has been an incredibly exciting experience for all involved.
Drones are a great delivery provider for two main reasons - firstly, they travel faster than cars, giving customers a more efficient service, and secondly, they are better for the environment, reducing both air and noise pollution.
When customers are ordering Camile Thai, they can choose between a car or a drone for delivery - if they select a drone, they can then be shown a satellite image of their home, in addition to a grid that allows them to select the landing area.
The process takes all of three minutes from the restaurant to the destination, with the drones travelling at an altitude of 80m and a speed of 80km/h. We have now done thousands of orders for paying customers without a hitch.
I wonder if you could break down the particular packaging considerations that are specific to your context?
As we have always been a take-away/delivery food service provider, in addition to having indoor dining, packaging has always played an integral part in our business model. The pandemic did not only accelerate trends such as health and tech advancements - but we also saw customers become more eco-conscious, with sustainable options a key consideration and search term when ordering takeaway.
In addition to our wide range of plant-based meal options, eco-friendly packaging is of huge importance to us. We were the first takeaway in Europe to introduce compostable packaging, investing 25% more on our packaging costs in order to reduce the amount of plastic used, but did not raise our prices.
Additionally, in January of 2020, we introduced reusable cups as an alternative to single-use cups, further reducing waste in our packaging process. Across our restaurants, we are now single-use and plastic-free - even down to the Sellotape and cutlery that we use.
What is the importance of packaging sustainability to food delivery platforms?
In recent years, we have all seen food delivery platforms attempt to cut down waste when delivering the food to the consumer - a prime example of this is the ability for the customer to decide whether or not they need plastic cutlery with their meal. Other alternatives to plastic use have come in the shape of more natural materials, such as bamboo.
Of course, it can't just stop there. Takeaway containers equate to around 3 million tonnes of packaging waste each year - of which most ends up in landfills, and this figure is unacceptable. Delivery platforms have demonstrated their desire to be an eco-friendly service, and sustainable packaging is the next step in this process.
And are there any key payoffs between sustainability and functionality in your context?
Of course, while all businesses should engage in more sustainable practices, economic factors should be considered. We did invest 25% more on packaging costs, to ensure our packages were environmentally friendly, so the process is more expensive. Additionally, Camile has introduced 'carbon counting into our processes, allowing us to carbon count all of our dishes.
Camile also has reusable packaging that we are considering using in the future. We have water-saving woks and only use green energy suppliers. Admittedly, this is more costly than other models. However, with more consumers turning to businesses and brands that have a reputation for being eco-conscious, we believe that there is a pay-off. I, and Camile, plan to continue looking at the supply chain and improve where we can.
In your view, what does the future hold for packaging in your industry?
Back in 2019, when Camile began to introduce compostable packaging, this step was taken in the hopes that other businesses would soon follow. We believe that in the coming years, there will be an increase in takeaway services adapting their packaging to be more environmentally friendly, if not fully compostable.
We hope that the entire restaurant industry will develop beyond offering sustainable food options, by integrating sustainability in all steps of the delivery process, including packaging.