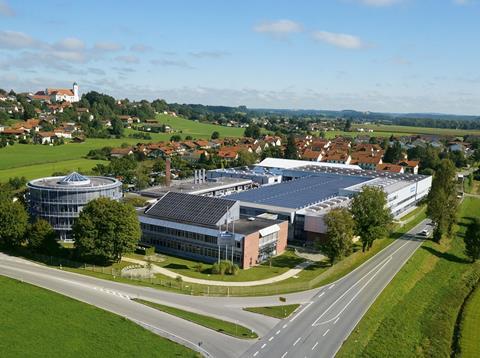 2017 is a special year for ALPMA Alpenland Maschinenbau GmbH: The global market leader for Process, Cheese-Making, Cutting and Packaging Technology celebrates the 70th anniversary of its founding.
On 15 September, the third-generation family company will be marking this milestone with an official ceremony at its headquarters in Rott am Inn, Bavaria. In addition to customers from all over the world, the guests will include representatives from the world of the economy and politics, among them Ilse Aigner, deputy prime minister of Bavaria and minister for economic affairs and the media, energy and technology. In the 1940s, when Gottfried Hain, the founder of ALPMA, was working on his first packaging machine for Camembert pieces in the backyard of the Alpenhain dairy, it would have been hard to imagine that within just a few decades, his little cellar workshop would grow to become a global company that decisively influences the future of cheese production.
Inventive genius, enthusiasm for new technologies and innovative mechanical engineering solutions were the hallmarks of ALPMA in those early years – and they have remained key factors in the success of the company, which today has a workforce of 700 and has long since become the undisputed market leader for cheese-making, cutting and packaging technology.
Anniversary celebration with customers from around the globe
"ALPMA is a real success story 'Made in Germany,' says Gisbert Strohn, Managing Director of ALPMA. "Our special blend of high-tech and down-to-earth engineering, our absolute commitment to precision and a feeling for the current needs of the market – unique solutions that bring real benefit for our customers. These are the factors that have made us what we are today – and what we would also like to show our guests during our anniversary celebration."
The official ceremony celebrating the anniversary will take place on 15 September at the ALPMA headquarters in Rott am Inn – where the majority of the company's machines and plants are still developed and manufactured before being shipped off to their destinations around the globe. The guest list includes not only customers from all markets, but also representatives from society and politics, for example the deputy prime minister of Bavaria and Bavarian minister for economic affairs and the media, energy and technology, Ilse Aigner.
Guided tours will give the minister and all guests an opportunity to take a look behind the scenes at the ALPMA production plant. "70 years is a significant milestone. For this reason, it is a priority for us that our guests should experience the spirit of ALPMA, the enthusiasm of our employees for mechanical engineering, cutting-edge technology and innovative solutions. This is a unique opportunity to experience first-hand what continues to drive ALPMA forward," explained Gisbert Strohn.
Mechanical engineering at its best
While Gottfried Hain's first packaging device consisted of a relatively simple wooden trough, today, ALPMA's product designers, mechanical engineers and computer scientists use state-of-the-art technologies in their plants. Some time ago, the company expanded its focus from packaging machines to plants and customised products along the entire cheese production chain. ALPMA specialises in complete systems for dairy factories, taking care of every step in production, from the milk to the packaged cheese – to a large extent fully automatically and employing the latest robot technology. ALPMA plants can be used for widely varying products: from classic French Camembert to blue and white cheeses right through to sliced cheese and exotic Indian paneer.
"What sets us apart from other plant engineering companies is our competence in the production and processing of cheese and our comprehensive product portfolio: We offer solutions along the whole cheese-production value creation chain," emphasises Frank Eberle, also a managing director of ALPMA. "We have an in-depth understanding of the market and offer our customers tailor-made systems which reduce production losses and optimise processes."
A guided tour of the production site provides concrete evidence of what this means, for example in the form of plants such as the coagulator – a trough up to 85 metres in length with which, in the 1970s, ALPMA made continuous curd preparation possible for cheese-making factories for the first time. There are also the latest developments such as the CUT 32 portion cutter, which uses a density scanner to calculate the ideal division of a piece of cheese fully automatically.
"We are at the cutting edge of the market in all areas of cheese production," says Strohn. "And we are consistently expanding our competence in new key areas – for example IT. We develop our own networked plants under the heading 'Smart Factory,' and we expect this to be an important growth area for us in the coming years."
Training and the targeted promotion of talent
From its founding, ALPMA has placed great emphasis on the targeted training and encouragement of talent within its own workforce. The magazine Focus Money recently listed the company as one of the ten best training companies in Germany in the field of mechanical engineering. "Our employees are our strength. For this reason, the promotion of young people is of vital importance for us," says Eberle. "And we are proud to say that we now have young employees whose parents and grandparents worked for ALPMA. That is a vote of confidence in us as an employer."
It is also mirrored in the history of ALPMA: Gottfried Hain senior, who founded ALPMA in 1947, was succeeded by his son Gottfried Hain junior, who managed the company from the 1950s until 2005. And his son, Martin Hain, has been the head of the advisory board since 2012. The company also actively lives the values of a family company: "Despite ALPMA's rapid growth in recent years," says Frank Eberle "the atmosphere at our business locations is familiar: Our employees know each other and identify with the company."
And the long-established enterprise sees this mentality as an excellent foundation for the next seventy successful years.
More info: