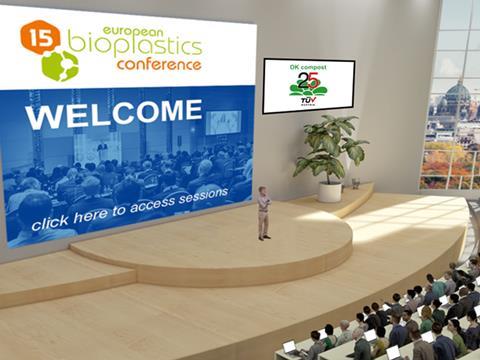 This year's European Bioplastics (EUBP) Conference took place from the 30th of November to the 3rd of December as a virtual event that welcomed over 350 participants from 36 countries.
In his opening speech, François de Bie, Chairman of European Bioplastics (EUBP), set the scene by giving his views on the role of bio-based and compostable plastics in the European Union's efforts to achieve a green circular economy, saying: "Many of the European Commission's Green Deal initiatives touch upon plastics. Our industry provides important solutions that help to achieve a circular economy in Europe."
During the subsequent policy session, experts from the European Parliament, European Commission, and the private sector discussed the role of bioplastics in the European Union's process towards a circular economy. "Bioplastics can play a crucial role in delivering innovation, and we have to create a stable market for them," said MEP Maria Spyraki.
A clear legal framework was seen as paramount by the panellists to ensure reliability in decision-making, not only for the bioplastics industry but for the whole bioeconomy. There was also general agreement that a real system change towards a circular economy would require the involvement of everyone along the supply chain. Consumers were identified as an important driver of change.
The need for sufficient and efficient research funding was another finding, which was also an integral topic in many other conference sessions. "We need more research funding, and we have to streamline this investment for innovation to achieve a circular economy," said MEP Spyraki.
Further panel discussions looked into the appropriate end-of-life options for the treatment of bioplastic products. Composting and mechanical or chemical recycling were deemed to be complementary solutions, depending on the respective application.
New EUBP market data sought to show that the bioplastics industry has successfully weathered the challenges posed by the COVID-19 pandemic, with a predicted growth rate of 36% over the next five years. The vivid discussions around life cycle assessment emphasized the complexity of the field as well as the challenge of communicating the many different value propositions of bioplastics.