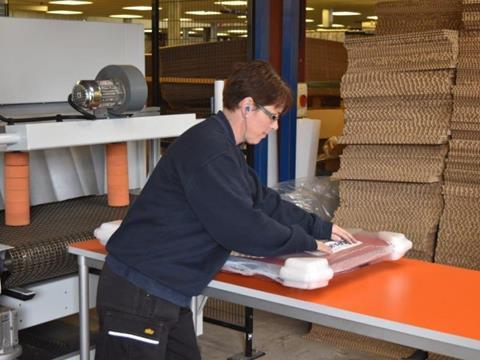 Shrink wrapping specialist Yorkshire Packaging Systems has revealed the benefits delivered by its latest installation – a 60 per cent reduction in transit damage for educational furniture firm Gopak.
Hythe-based Gopak, manufacture lightweight, folding educational and community furniture. The requirement for a streamlined and highly efficient shrink-wrapping system was born from its specific business model, which focuses on flat-packed products, put out for delivery by a carrier network.
Faced with repeated damage to cartons in transit when using cardboard, Gopak needed a less bulky and more effective method of wrapping its products for delivery. YPS initially provided a hire machine to demonstrate the capabilities of its machinery and film offering and the results were very positive.
YPS went on to supply a bespoke machine, which has transformed the efficiency of its dispatch area and reduced the number of items damaged in transit by a staggering 60 per cent; increasing both customer satisfaction and profitability. Since these improvements, Gopak has been able to secure Feefo Gold Trusted Service status.
Andrew Fieldwick, Managing Director of Gopak commented: "We weren't convinced that our furniture could survive the carrier network with just polythene to protect it, but YPS has proved us totally wrong. We've made great savings in the cost of packaging materials and warehouse space, along with the obvious importance of providing improved customer satisfaction. Throughout the whole process YPS has given great support and taken time to fully understand our particular requirements."
Glyn Johnson, Managing Director of YPS, added: "Our work with Gopak is a great example of our drive to find bespoke solutions to common customer challenges. Our expertise has allowed us to deliver excellent results, which we hope will continue to positively impact the business for years to come. We are confident we can scale up our solutions as they go from strength to strength; we always work towards long-term efficiencies and partnerships for our customers."
More info: