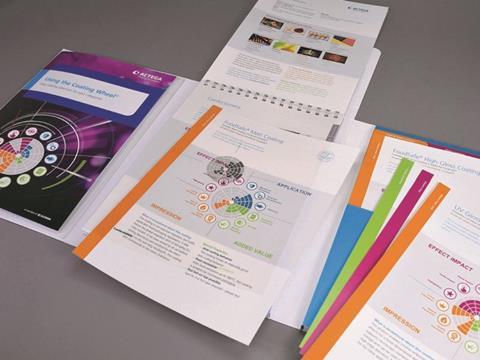 Coating specialist ACTEGA Terra will be presenting itself to the audience at interpack 2017 with a world innovation. At the focus of the trade fair appearance this year will be the assessment and work tool Coating Wheel© developed in collaboration with the packaging agency pacproject.
When it comes to deciding on a packaging finish brand manufacturers and packaging designers have a wealth of options to choose from, yet all too often packaging decision-makers hesitate. "We think brand owners would like to use more finishes in packaging design but are unsure, for instance due to food legislation and restrictions," says Timo Kondziela, Head of Marketing at Actega Terra explaining the approach of the project idea. Coating Wheel© aims to put packaging decision-makers in a position to find the right finish for their product in a playful and simple way.
Workshop at interpackFor this reason, ACTEGA Terra and pacproject are organising a workshop at interpack with their partners Stora Enso and KBA-Sheetfed Solutions where participants can use the Coating Wheel© set to simply, quickly and systematically find out what coatings and end applications go together. Like with a drawing template users can use the tool to find the right products for their application requirements and at the same time discover the most important graphic packaging trends, printing technologies and overprint varnishes.
Holistic ApproachThe Coating Wheel© is a variation of pacproject's Packaging Wheel© and is part of the company's extensive Open Knowledge Pool. The aim of the individual instruments is to bring together the know-how from very different disciplines. Project Manager and Strategic Consultant at pacproject Tobias Kredel explains: "The packaging sector is very complex; no-one can master all disciplines. For this reason, efficient knowledge transfer is indispensable."
Save FoodPackaging developers from pacproject will be creating another focal point at interpack 2017 with a lecture in the SAVE FOOD innovationparc. The solutions the packaging industry can use to counter the problem of food losses and waste will be illustrated to the trade audience by Jörg Kuhlmann (Consulting Director at pacproject) and Dirk Löding (CEO at Schwartauer Werke).
SAVE FOOD LECTURE "PACKAGING IN DIALOGUE"Thursday, 4 May 2017 // 3.00 pm @ innovationparc Jörg Kuhlmann, Consulting Director, pacproject / Dirk Löding, CEO, Schwartauer Werke
More info: