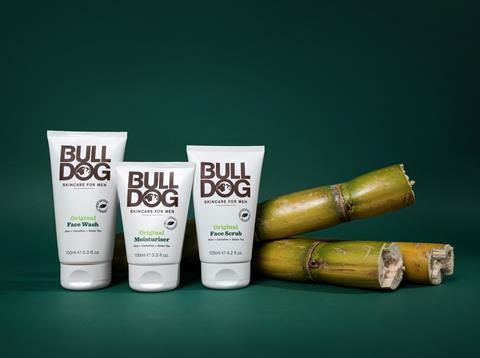 RPC M&H Plastics and Bulldog Skincare for Men have joined forces once again for Bulldog's new line of skincare packaging, with a sustainable twist.
The first men's skincare brand in the world to use Sugarcane as a raw material, Bulldog have chosen to go green with their updated flexible tube line up, which features Moisturisers, Face Washes and Face Scrubs, with multiple variations of each product focusing on different skin types which includes sensitive skin, mature skin and oily skin.
The Green polyethylene is created by farming Sugarcane on sustainable land in Brazil, thousands of kilometres from the Amazon rainforest.
Whilst being cultivated, the Sugarcane captures CO2 from the air as it grows. In fact, Sugarcane is so efficient at capturing CO2 that with every kilogram of Green Plastic produced 3,09 kilograms of CO2 is removed from the air!
Once grown, the Sugarcane is transformed into "ethanol", a type of alcohol, which is in turn used by Bulldog's partner Braskem to create Green Plastic.
The Green Plastic is then used by RPC M&H Plastics instead of fossil fuel sourced material to create Bulldog's Flexible Tubes while maintaining the performance characteristics of traditional Polyethylene.
However, the environmental positives do not stop there, the Sugarcane is often planted on degraded pasture land which in turn helps to recover the soil for future use as general farmland or to simply plant another crop of Sugarcane!
RPC M&H Plastics is continually seeking alternative environmentally-responsive products as we believe that a small change can make a big difference while continually striving towards a business that has minimal impact on the environment.
Bulldog says:
Bulldog is proud to be the first men's skincare brand in the world to use plastic from sugarcane in our packaging. We have always tried to make the most ethical and sustainable decisions we can, from never testing on animals, to never using microbeads to making all our products suitable for vegetarians and vegans. Plastic from Sugar Cane is the latest step in this approach and we are delighted to have worked with M&H Plastics to turn Green PE into something we can use in the tubes and caps of our packaging.
More info: