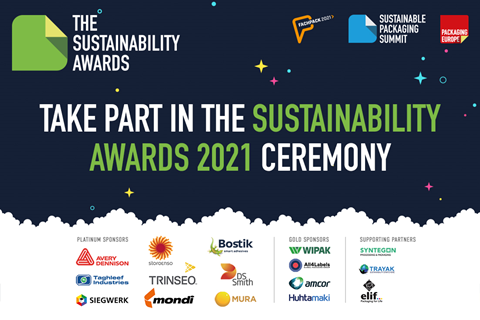 On 29th September, we'll be announcing and meeting the winners of the Sustainability Awards 2021!
We're giving you're the opportunity to take part either digitally (on our digital platform) or physically (at the PackBox Forum, Hall 7 at FachPack 2021).
If you can get there, be at FachPack on 29th September, where we'll be hosting a discussion on cutting-edge sustainable packaging innovation featuring P&G's Gian De Belder and PackZ's Dick De Koning from 16.00 CEST. Then, from 17:00 CEST, the Sustainability Awards 2021 ceremony will be taking place.
If you won't be in attendance at FachPack, don't worry - we're streaming the awards ceremony on our Sustainable Packaging Summit digital platform from 17.00 CEST. If you haven't already, sign up here to watch (for free).
Click here for more information.