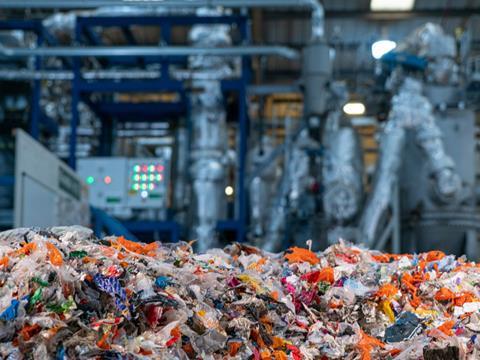 Circulor has announced a partnership with energy company TotalEnergies and Recycling Technologies, a chemical recycler of plastic, to develop a blockchain-enabled traceability solution for hard-to-recycle plastics (HTRP).
Project TRACKCYCLE will embed blockchain technology into the advanced recycling value chain, with the aim of providing a fully traceable and accurately labelled record of recycled materials, from waste sourcing up to the use of recycled polymers in new production streams.
According to the companies, this will provide stakeholders in the polymers industry with visibility of the provenance and quality of the materials entering and exiting their facilities.
As part of the TRACKCYCLE project, TotalEnergies and Recycling Technologies teams plan to leverage their industrial and R&D expertise to improve the traceability of feedstock from post-consumer plastic wastes used in the production of recycled polymers.
The consortium will work closely with several plastic waste suppliers, including a multinational FMCG company that provides post-industrial waste.
With the launch of this initiative, the companies hope to meet the need for accurate information on plastic recycling in light of impending plastic packaging levies from federal and national governments.
Adrian Griffiths, CEO of Recycling Technologies, commented: "We believe this project will bring about the benefits of linking inbound waste provenance with outbound quality and destination for each unit of Plaxx produced.
"Full transparency is key to gain trust, incentivise sustainable practices, and provide stakeholders with an optimised supply and logistics value chain, contributing to increased recycling rates."