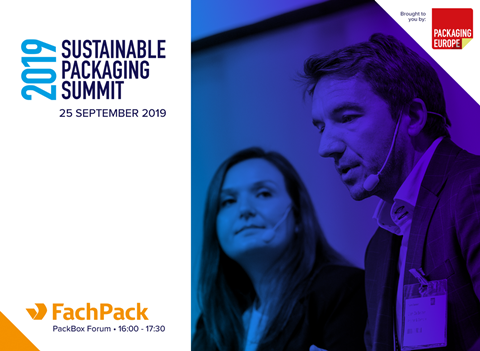 At FachPack this September and in conjunction with the Sustainability Awards 2019, Packaging Europe will be presenting the Sustainable Packaging Summit, exploring contrasting approaches to a Circular Economy in packaging and how to choose the appropriate path.
Nuremberg, Germany will host this year's essential sustainable packaging discussion as Packaging Europe hosts the Sustainable Packaging Summit, followed by the Sustainability Awards 2019, on 25 September from 16:00 at the PackBox Forum.
Star speakers at this year's Summit include TerraCycle's Tom Szaky, the mastermind behind the widely publicised Loop reusable packaging concept, and Dana Mosora –one of the organisers of the CEFLEX project to build universal recycling of flexible packaging across Europe. We will also hear from two global brand owners (P&G's Gian De Belder and PepsiCo's Chris Daly) who are taking part in both Loop and CEFLEX, in addition to many other circular initiatives. The four speakers will come together for an illuminating panel discussion following their presentations moderated by Packaging Europe's head of content Tim Sykes.
First up will be Gian De Belder, principal scientist, packaging R&D at Procter & Gamble. Gian's presentation 'P&G's Ambition 2030: latest innovations and value chain collaboration' will outline P&G's renewed sustainability strategies (packaging focus), highlighting the importance of cross value chain collaborations and the need to work on all five critical pillars to realise a Circular Economy for packaging.
Following him is TerraCycle CEO and founder Tom Szaky, who will speak about 'Eliminating the idea of waste'. Tom will discuss the theory of waste and how through business we eliminate the idea of it. Also, how one can find other areas of value, whether in packaging or products, beyond just the material value and hopefully to be inspired that our future can be a world where the concept of waste doesn't exist and yet our products can be more exciting, more convenient and better than ever.
Next Dana Mosora (consultant at CEFLEX) will present on the subject of 'Driving the circular economy for flexible packaging through full value chain collaboration'. Recycling is key to realising the Circular Economy for plastic packaging, Dana will argue. But this needs to be done with a favourable environmental footprint and delivering valuable secondary materials. The CEFLEX collaboration of over 100 companies and associations in Europe is steadily working out how and when to recycle flexible packaging to ensure the resulting Circular Economy is a sustainable one for all parts of the value chain.
The presentation will share insight into how what is non-recyclable today can be recycled tomorrow through packaging and system redesign; optimisation and enhancement in sorting and decontamination of post-consumer flexible packaging waste; and new enabling technologies to recycle more and/or produce better quality of secondary materials.
Finally, Chris Daly (VP Sustainability at PepsiCo ESSA) will speak about 'A circular future today'. Chris will explore what a circular future looks like from the PepsiCo perspective and the challenges and opportunities around realising that future. What actions and partnerships do we need in order to reach the circular future faster?
Following the panel discussion guests will be invited to stay for drinks, networking, further discussion and the announcements of the winners of the Sustainability Awards 2019.