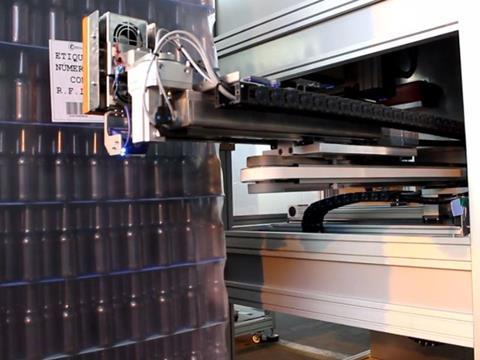 SATO, a leading global provider of Auto-ID solutions, has worked in partnership with automatic warehouse systems specialist Orbital to develop a unique Print & Apply (P&A) pallet labelling system which offers improved options for anyone needing to track palletized goods using RFID technology.
The new Orbital printing station is the only standard automated P&A solution that prints to a 6" RFID label width, offering a greater print area for batch details and other unique identification information. At its heart lies SATO's advanced NX Series intelligent print technology.
The NX Series represents SATO's next generation of thermal printers with advanced support for barcode symbologies, character sets and RFID encoding. Its compact size and multiple interface options made the CL6NX printer particularly suitable for Orbital's needs, making the device easy to integrate within an X-Y labelling robot. Its robust specification includes a die-cast aluminium frame, print and ribbon mechanism to provide stability, durability and ensure print quality in the toughest industrial environment.
Offering high-speed processing performance, the CL6NX enables the Orbital printing station to process up to 1300 pallets per day. The Orbital print station is based on "open" software (GESTRAL) and features a 17" interactive display, which makes it highly adaptable, intuitive and easy to use. It also has an application tamp made from a flexible, spongy material that facilitates good adhesion of the label to the pallet wrapping, especially on uneven surfaces.
Laurent Lassus from SATO says: "The unique 6" Orbital printing station is the result of a strong partnership between Orbital and SATO, which is based on collaboration and shared values. These include developing technology that is simple and intuitive to use, while offering excellent reliability and adaptability to the customer's requirements."
On behalf of Orbital, Francisco Javier Lopez Berenjeno, Director Genereal Grupo Josefrans, added: "Since Orbital was founded, SATO has not only been one of our top collaborators, but one of our key drivers for growth. The human and technical support they provide, together with the quality of their products, make it possible for Orbital to offer our clients equipment with technological innovations, which is extremely reliable – and in some cases unique in this market."
More info: