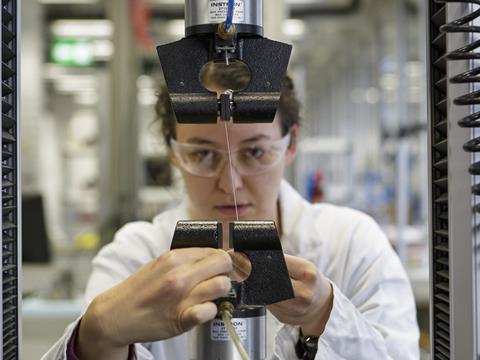 The fruits of Pack Studios are hitting the markets, from the PacXpert and PoucHug formats to optimised adhesives. However, the real gauge of success, according to Ms Di Cunzolo, is not merely the quality of the end solution, but the degree to which a project has helped both converter customers and value chain partners to successfully accelerate innovation, in the process delivering added value and growth. The development of a novel packaging formulation for frozen food bags based on Dow's INNATE™ and ELITE™ high performance resins was one such collaboration project that met these criteria. It provided significant benefits in terms of high hermeticity and improved puncture and drop resistance of the package, as well as resource efficiency through downgauging. Another is an innovative skin packaging on paperboard solution for meat, fish and cheese barrier packaging that combines all in one improved sustainability attributes and consumer convenience benefits. "Dow Pack Studios' industry-leading capabilities have been a critical enabling factor," said Ms Di Cunzolo, "to achieve fast and successful commercialisation of these and many other value-adding packaging developments, resulting in a triple win for the converter, the brand owner and Dow."
Overcoming obstacles
The speed of innovation is accelerating around the world. Competitive pressure is increasing everywhere. Moreover, we're living in a fast-moving world dominated by globalisation and digitalisation, and the packaging industry is no exception. This raises potential barriers to collaboration. "Growing competitive pressure on one side, and the threat of over-transparency of data and information brought by digitalisation on the other side, may sometimes be seen as limiting factors preventing collaboration amongst value chain members," said Ms Di Cunzolo. "Companies are rightly conscious about the strategic importance to protect their own IP space, so as not to give competitive advantage away – particularly when it gets to innovation and new technology development.
"I personally believe that a good way to address such concerns and effectively promote the collaboration spirit across our industry, is take the lead and always act reliably and responsibly, so as to ensure the best possible balance between sharing of expertise and need for confidentiality, at all stages of a strategic collaborative engagement."
Commitment
I put it to Ms Di Cunzola that 'collaboration' has become something of a buzzword: lots of businesses say they are doing it – with varying levels of commitment. "I could not agree more about how much used and abused the word has become," she responded. "In general though, in our conversations with customers, brand owners, retailers, equipment manufacturers and packaging industry experts, we hear a growing number of players convinced that the industry as a whole needs to get more and more strategically engaged in a collaborative and circular approach. Many years ago already, Dow launched a marketing communications campaign that was all themed around the concept of "We Don't Succeed, Unless You Do". Such a statement could not be more modern today... Collaboration is now, more than ever, the key to success. It's the driving force that will generate sustainable development, innovation, and last but not least, competitive advantage in our industry.
"The power of Pack Studios' offering is the breadth of Dow's Packaging & Specialty Plastics product portfolio, technical expertise and application knowledge to offer total packaging solutions that can be developed and leveraged everywhere across the globe, while ensuring local agility for fast commercialisation of new solutions. Having said that, we are obviously not alone in this industry; in fact, I personally look forward to seeing other players in the packaging arena willing to invest in collaboration resources and models that can further accelerate innovation and growth across the value chain. Again like we said, collaboration is the name of the game and we expect so much more to come in the future!"