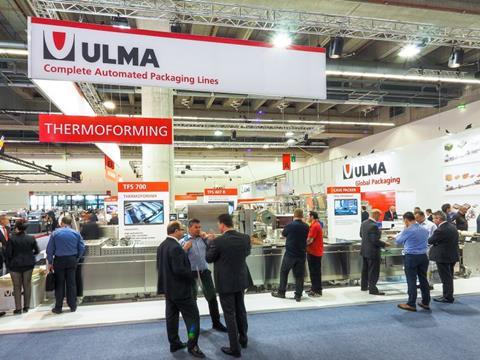 ULMA Packaging Ltd will be showcasing the latest in high performance fill and seal technology at the forthcoming Foodex exhibition, as part of a line-up of automated systems.
The stand (S271) at the NEC has plenty of visitor appeal, including the revolutionary Air Extraction System (Tight Bag) to tackle excess air in the bag from frozen products without affecting the integrity of the packaging.
Tight Bag will share star billing with an award-winning thermoformer (TFS407R), flow wrapper (Sienna) and continuous motion bagmaker (VTC840) to demonstrate the array of ULMA's robust and versatile kit, as well as the firm's expertise in supplying completely automated packaging lines.
Also featuring on stand will be the TSA680, one of an innovative range of tray sealing systems developed by ULMA for the UK market in response to customer demand for high speed machines that can handle packs of almost any shape, size, composition or MAP requirement. The sealers are suitable for a wide variety of applications including fresh produce, meat, ready meals and many other food products. Visitors can also find out more about ULMA's radical new vertical form fill and seal system, which can transform the packing of fresh herbs and light leaf salads.
In addition to the machines, there will be the font of all packaging knowledge in the shape of ULMA's technical team, who will be on hand at the exhibition to answer questions on the various advanced skin, film and wrapping technology that can be installed as part of an automatic packing line, or as a standalone manual feeding solution.
With methods of minimising food waste likely to be a hot topic at the show, ULMA is confident that by providing robust and easy to use packaging solutions that protect food contents and increase shelf life, it is making a contribution towards reducing the level of waste, through significantly enhanced efficiency in day-to-day operations.
ULMA's UK Managing Director, Chris Pickles, said: "We are delighted to be returning to Foodex with an exceptional equipment line-up that is sure to be the talk of the show. It's a great opportunity for visitors to see how we create packaging solutions that not only meet their needs now, but also anticipate how market trends are likely to evolve."
Packaging solutions that ULMA supplies are not only competitively priced, they are extremely versatile and are proven to remain completely reliable under the pressure of a seven-day-week production operation. Known not just for its global experience in supplying all-round packaging technology, ULMA also provides a full after sales support service in the UK and Ireland, giving its customers peace of mind that production lines can be maintained effectively and businesses run smoothly and efficiently.
Always striving to stay one step ahead of its competitors by designing and supplying systems for virtually any packaging requirement in the food industry, ULMA's equipment can play an important role in developing companies' competitiveness by driving productivity and innovation - critical cornerstones to future prosperity for corporates and SMEs alike.
Foodex provides the perfect platform for ULMA to showcase this exciting technology for the food industry. An approved supplier to multiple retailers and others involved in the packaging of a cross-section of food and non-food products, ULMA has the largest range of solutions available anywhere in the UK and is leading the way for innovative, efficient and robust packaging equipment.
FOODEX Exhibition: 16-18 April 2018 NEC Birmingham Hall 3 Stand S271
More info: