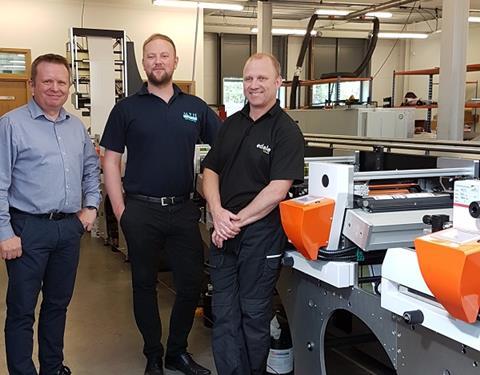 UK label and packaging experts MPH Fulfilment have purchased their sixth Edale press - a 430 wide, 10 colour FL3 suitable for the production of labels and film and is currently undergoing installation.
MPH Fulfilment produces packaging solutions for numerous industries, and have invested in the Edale FL3 as a mainstay press for the production of linerless labels.
Andy Clark, General Manager of MPH Fulfilment, commented;
"Edale have been MPH Fulfilments preferred machinery supplier from the outset in 2004. They have consistently delivered to our requirements and have met demands in what is a very competitive environment.The FL3 fits well with our current and future packaging opportunities."
MPH plan to use the FL3 alongside a Comac 500; a linerless coating machine which allows the application of multiple release and adhesive lines on printed master reels and make them ready for use on a nobac applicator.
The FL3 is a high productivity, cost efficient quality label and packaging printing press. Benefits include fast run speeds, quick colour changes and an ultra-short web path ensuring minimum waste and maximum efficiency. With Full servo driven technology, the Edale FL3 boasts features such as Edale's unique UniPrint technology, which delivers industry leading high quality print.
More info: