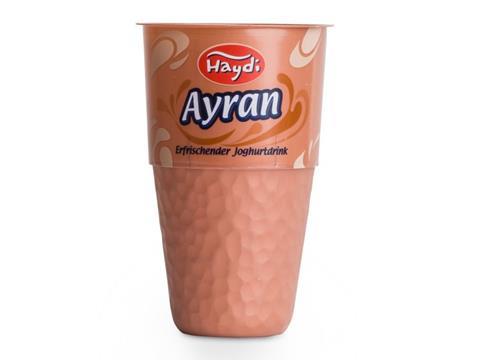 Traditional and modern, all at the same time – that is the look of the new ayran cup, developed and produced by Greiner Packaging for the company "Bayerische Milchindustrie eG".
The packaging experts have demonstrated their engineering and design skill once again with this plastic cup with the metal-hammertone look.
The unique surface structure gives the new ayran cup from the "Bayerische Milchindustrie" (BMI) cooperative dairy that certain "something". The design is reminiscent of the copper cups from which the salty yogurt drink is traditionally consumed in Turkey.
Wanted: design and engineering skill
In 2015, BMI turned to Greiner Packaging to give the packaging of their much-loved ayran drink a new shine. In intensive collaboration with its customer, a Greiner Packaging team consisting of the in-house Design & Prototyping division DesPro, project management, and technicians developed a cup that reflects the tradition of ayran while at the same time striking a modern chord. "Our goal was to bring the plastic cup as close to the design of the original cup as possible. However, transferring the characteristic hammertone look of the copper cups to a plastic cup initially presented us with a few challenges," stresses Christian Platzer, the Key Account Manager in charge at Greiner Packaging.
The indentations in the surface of the cup – just like with the original cups – are of different sizes, and transferring this individuality to a mass-produced product required a high level of technical know-how; the same goes for the fact that indentations in an injection-molded cup make it more difficult to remove it from the tool.
However, after a bout of intensive development work, it proved possible to overcome all of the challenges and win over the customer with the extraordinary cup concept.
The plastic cup is being offered in two color options: While the white cup will be marketed primarily at the retail level, the copper-colored cup will mostly be used in foreign ethnic markets. It is strongly reminiscent of the original and possesses a high degree of recognizability. To lend it that authentic drink experience, a special color granulate with metallic pigmentation was developed and adapted in a series of trials – the result is unique on the market.
More info: