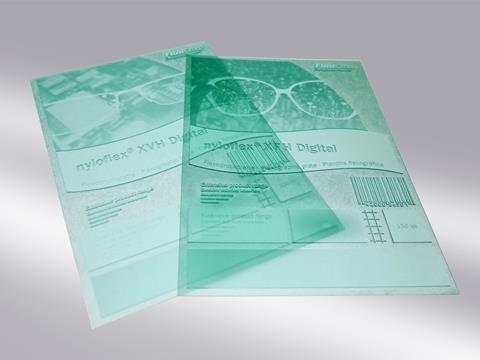 One of the main challenges for repro houses and printers nowadays is finding the balance between quality and cost. On one hand, quality standards have risen, demanding new developments from plate-makers, and on the other the packaging industry is demanding for a decrease in costs, which requires cost effective solutions. Packaging Europe takes a look at two recent innovations from Flint Group aimed at bridging this tension.
"As it is our ambition at Flint Group to become the innovation leader in flexographic plate and sleeve solutions we are addressing this challenge by continuous innovation leading to superior products such as our award winning nyloflex® Flat Top Dot plate with texturised surface for the Flexible packaging or the Corrugated market segment and the superior rotec® Eco Bridge Adapter for printing presses," says Friedrich von Rechteren, VP sales EMEA and global marketing of Flint Group Flexographic.
The photopolymer nyloflex® FTF Digital is a flat top dot flexographic plate with simple processing features like any standard digital plate: no change, no additional equipment, processing steps or consumable items are needed. The special, textured plate surface eliminates the need for surface screening and provides an even ink laydown and increased solid ink density in a simple way. Flint Group additionally offers flat top dot plates for all applications. nyloflex® FTC Digital for corrugated postprint provides a significant fluting reduction, from fine to rough flute on various corrugated boards. Holding the finest highlights, the nyloflex® FTC Digital plate offers outstanding print quality - sharp and defined elements with precisely reproduced text and codes, excellent ink transfer, resulting in very smooth solids with even ink laydown, which allows high and consistent print quality on a variety of substrates. The upcoming solution is specifically designed for absorbent substrates and water-based inks. The new printing plate provides customers in preprint, beverage cartons or flexible paper packaging the benefits of flat top dots, allowing them to achieve enhanced ink laydown and improved solid ink density on fibre substrates in a simple way.
Another innovation addressing the balance of quality and cost is Flint's development of the nyloflex® Xpress Thermal Processing System.
The nyloflex® Xpress Thermal Processor incorporates the speed of thermal plate making with enhanced plate and print quality, offering a smart design with an enhanced user interface. The distinctive characteristics of the processor provide unprecedented control and allow for more consistent and stable plate production promising 'thermal like you've never seen before'. "We believe our new, integrated solution, is in a class of its own," remarks Friedrich von Rechteren. "We achieved this result by looking at the thermal process holistically. By combining the best in equipment design, plate development and engineered fabric, Flint Group is offering a system which leads to reduced costs, improved quality and improved sustainability."
Inherent flat top dot plates are projected as seeing the most future growth, as they provide the benefits of flat top dot geometry without adding steps to the workflow, a significant reduction in complexity, and increased efficiency in the prepress and plate making process, while offering the highest print quality. "We expect inherent flat top dot plates to represent more than half of overall flexographic plate usage by 2020 across market segments," reveals Mr von Rechteren. "At Flint Group we work daily on all customer critical topics to satisfy our customers' needs for ever improving cost and quality according to our key principles of 'Better, Faster and Easier to use'."
This content was sponsored by Flint Group.