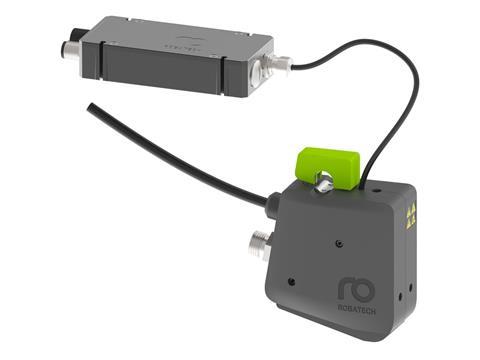 Robatech cites energy efficiency, operator safety, easy maintenance, and sustainable consumption of glue as benefits of its Volta hot melt jetting head in this edition of The Spotlight.
The new Volta hot melt jetting head from Robatech shows how sustainable gluing works. Volta sets standards in terms of economy, reliability, and precision. This leads to a fast return on investment.
Volta's saving potential at a glance:
60% less energy consumption than Robatech's SX pneumatic application head
40% less adhesive with hot melt stitching
CoolTouch insulation protects operators and reduces energy consumption
1 billion operating cycles with pure precision in adhesive application
Low maintenance and process reliable
Straightforward system integration, also in existing lines
Save energy and adhesive with Volta
Conventional compressed air application systems are maintenance-intensive and cause high operating costs. Volta does not require compressed air. This reduces operating and maintenance costs. Compared to Robatech's SX pneumatic application head, Volta requires about 60% less energy.
But it is not only the energy consumption that is reduced. Volta's electric drive is fast. With a switching frequency of 200 Hz, Volta is optimized for hot melt stitching. In stitching, the adhesive is not applied in bead form, but by a repeatable dot application. Compared to bead application, the gluing process requires up to 40% less adhesive. Low wear despite high switching frequencies is another advantage over pneumatic application heads.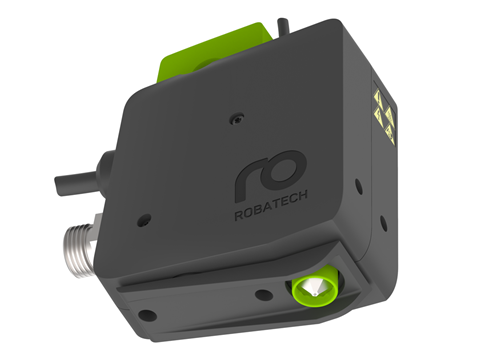 Reliable and precise - even under harsh manufacturing conditions
With meticulous precision, Volta delivers reliable adhesive application over the duration of 1 billion operating cycles. The uniform temperature distribution in the jetting head contributes to the excellent quality of the adhesive application. The innovative CoolTouch insulation of the nozzle ensures constant adhesive viscosity. An adhesive filter is integrated into the heating block, reducing nozzle clogging and thus downtimes.
For a constant adhesive quantity over the entire service life of the application head, the stroke can be adjusted manually if required. Cardboard dust and splash water cannot harm Volta thanks to its robust design with IP55 protection. The absence of dynamic seals also makes the jetting head low-maintenance. Volta thus brings stability to adhesive application and stands for high process reliability even under difficult production conditions.
CoolTouch insulation protects operators and products
The CoolTouch insulation provides reliable protection against burns if operators accidentally touch the hot melt jetting head. The innovative insulation reliably reduces heat radiation, making Volta ideal for glue application on heat-sensitive products such as chocolates or medicines. Volta is equipped with this insulation as standard, even with multiple application heads.
Straightforward system integration thanks to intelligent control electronics
The electric jetting head can be integrated into new or existing packaging lines via a 24 VDC interface. Volta is controlled directly via the integrated control of the melters of the Concept and Vision product lines, or alternatively via a PLC – without additional booster. The slim design facilitates mechanical installation in a packaging line, especially with multiple application heads.
For more information, visit our website.
This content was sponsored by Robatech.