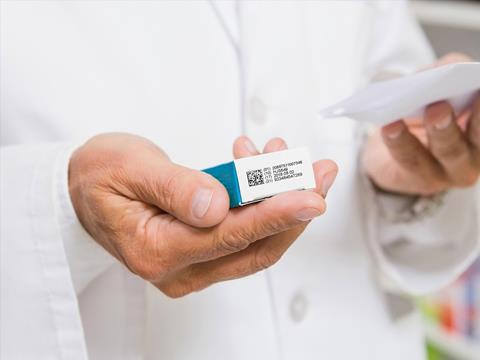 The pharmaceutical industry is forever evolving; according to 2013 research, the global marketplace is forecast to grow to an estimated $1,226bn over the next five years.
By Lin Zhu, Director of Ink Development, Videojet Technologies.
In addition, a number of regulations are scheduled to come into force in the US throughout the next few years, starting with the introduction of serialization to increase security of the supply chain and minimize opportunities for contamination, product tampering or counterfeiting. Packaging Europe magazine spoke to Lin Zhu, Director of Ink Development at coding and marking specialist Videojet Technologies to find out how a partnership with an ink specialist can help pharmaceutical manufacturers select the right product for their coding solutions.
• How important is it that pharmaceutical manufacturers select the right ink?
The pharmaceutical industry requires the highest quality coding where legibility and contrast are of the utmost importance. Manufacturers tend to focus on integrating their coding and marking systems into the production line as they assume it will have the most impact; however it is the durable ink code that adds the real value to products. Poor code readability has the potential to affect brand image and sales growth as consumers are unlikely to purchase a product if the code is illegible or the print quality poor. We are also seeing a trend where manufacturers choose highly distinctive inks from their corporate palette so that the color of the code can be associated with the brand, reinforcing its recognition and increasing product differentiation. Code survival is another key factor given the growing attention paid to product traceability. Specifically designed to survive a wide range of conditions, inks help manufacturers identify and track the product through its entire lifecycle and limit their liability in the event of a product recall. Furthermore, if manufacturers don't select the right ink, the quality will be impacted, and this might affect the legibility of vital product information with potentially devastating consequences.
• What are the challenges faced by pharmaceutical manufacturers and how can they affect the selection of inks?
What we notice across all industries is the diversity of product materials and production processes, which explains the wide range of inks available on the market. Manufacturers are also required to put an increasing amount of information on their products for tracking purposes. In the pharmaceutical industry, prescription drugs continue to increase, resulting in a higher need for traceability. For instance, the introduction of serialization which will require the marking of unique non-predictive serial numbers on each pharmaceutical packaging makes it essential to select the right ink that will adhere to a specific substrate. Given the ever increasing range of evolving packaging materials used in the industry, from glass and capsules to plastic sachets, this is no mean feat.
• How can a partnership with an ink specialist help ensure manufacturers select the right ink that meets their specific application requirements?
With so many application-unique fluids and specialist inks to choose from, it is no surprise that manufacturers need advice. By working with coding specialists and ink chemists, they can find the right solution for their application. Because the specially formulated inks will be the perfect match for the packaging, and the print of the highest quality, productivity will increase as the need for rework will be greatly reduced.
An ink specialist can also anticipate problems and recommend solutions to help ensure that manufacturers receive optimal coding performance. Understanding the fixed constraints of manufacturers is essential to select an ink that can survive the manufacturing process environment. One of these limitations is related to the material being coded as it strongly influences ink performance. Products typically work well with most ink types, but new high-performance plastics can present complex challenges for code adhesion. The production environment also plays a significant role in how inks adhere and factors such as moisture, temperature and humidity can all impact initial ink code adhesion and durability while drying times must be accommodated. Ink specialists can quickly narrow the selection from over 100+ possibilities to as few as one or two potential inks best suited to the application and test the final inks in manufacturing environments.
• How can inks help pharmaceutical manufacturers innovate, for example in meeting their sustainability goals?
Ink specialists are constantly researching new ink formulations that help meet manufacturers' challenges such as faster line speeds, more code content in less space, more diverse packaging types and more sustainability. By working with their customers they can help them meet their recycling targets and sustainability goals by developing more environmentally friendly, greener material, phasing out chemicals such as Methyl Ethyl Ketone (MEK) which may present a risk for health and find alternative solvents.
• How do you think the ink world will evolve?
Challenges in the ink world are mainly issues related to safety and human health. As line speeds increase, more products are processed in less time, resulting in more product contacts. Inks applied in high speed environment need to dry very quickly and therefore contain the most aggressive solvents.
That's the reason why one of our main objectives is to reduce our use of solvents or find alternative solutions. Our teams are currently working on finding substitute products which are more environmentally friendly to meet manufacturers' requirements and 20 to 30 per cent of our ink development is focused on sustainable inks and fluids.
More info: www.videojet.com