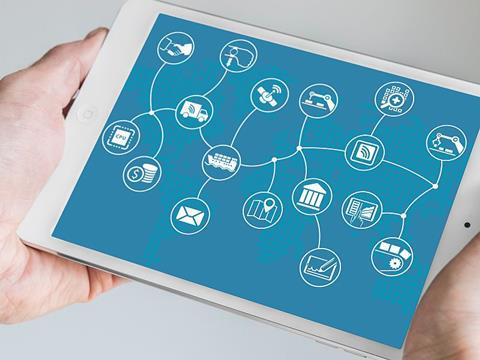 Elisabeth Skoda looks at the ways in which Industry 4.0 and smart solutions have helped companies become more energy efficient and keep track of what happens at their production sites.
Adopting Industry 4.0 into a packaging line can bring many benefits from better data management to improved efficiency. Smart packaging lines can improve traceability, uptime, and quality, while reducing running costs and total cost of ownership.
"Benefits come from having an integrated component and control platform which allows seamless exchange of data between devices and the control system. Having access to this component level data is a key enabling factor to realise the benefits of an Industry 4.0 system," observes Daniel Rossek, regional marketing manager at Omron.
Getting a clearer picture
Energy efficiency has become a growing concern, but the challenge is to monitor how much energy is being used on individual machines, as Mr Rossek points out.
"We usually start in the areas known to have high energy consumption, including any connective processes, where there is a lot of movement. Heating, cooling, conveyors, refrigeration, freezing and frying also tend to be energy intensive. We then use low cost equipment to monitor this, giving customers insights into their energy consumption and enabling them to make informed decisions."
Especially on older equipment, available data is typically just binary. Either the machine is working or not, the sensor can detect something or not. Inefficiencies often arise when systems are not integrated together and work in isolation, which amounts to bad housekeeping, as Mr Rossek explains.
"There is often no granular information that could for example indicate that a machine is operating at less than full capacity because of increasing wear on the motor bearings or because an optical sensor is getting dirty. Capturing data electronically and making sure that it is logged correctly and not just scribbled on a piece of paper constitutes an important step. If the data is already being captured by the equipment, connecting the machine to higher level IT domain or analytical is key."
Once the basic data capture process is place, it is then possible to start analysing the data to check efficiency and to identify potential bottlenecks in the process. It will also be possible to monitor device condition, permitting preventative maintenance.
"Incorporating these principles, Omron's 'i-Automation' concept aims to provide customers with intelligent, integrated and interactive solutions through the digitalisation of manufacturing. Because the system is completely linked, the data collected can be analysed to help overall system control. A key part of the Industry 4.0 future, smart data allows a system's production rates to be tailored to meet actual demand shifting from the traditional 'push-production' approach of many industries to one of pull-production. Smart data also means problems can be detected, analysed and located in a timely fashion, allowing operators to determine the best maintenance schedule and minimize downtime," Mr Rossek says.
Valuable insights
Digital industrial transformation can help with big gains in productivity, availability and longevity. In order to facilitate this, GE Digital has developed Predix, a cloud-based operating system which connects streams of machine data to powerful analytics and people, providing industrial companies with valuable insights to manage assets and operations more efficiently.
Senior solutions director and Predix apps & platform expert, Lennart Christensson explains that the solution works especially well for the industrial space to securely collect data from a machine and store it in the cloud, where it then can be used for analysis.
"Many customers in the industrial space don't have programming skills," he remarks. "In order to help them, we created an asset performance management system that is more of a software service. Different elements and different functions can be easily accessed. The solution is customisable for individual customers."
Mr Christensson highlights the fact that everything is combined into one asset centric solution, as having separate, siloed systems which don't interact can be problematic: "Our system includes information not just on machine data, but also data on how much time was spent on replacing a spare part."
Detailed performance measuring can help with getting a handle on energy waste. "Predix offers the capability to measure uptime and failures on machines which results in being able to exactly pinpoint energy consumption," according to Mr Christensson. "We can take information from the site to find out what product is being produced and then tie it in with energy consumption for that specific product. This helps the customer to improve their maintenance and energy footprint."
Only replacing what's necessary
Mr Christensson points out that many businesses overmaintain and spend money where it is not necessary. "Digital solutions can help to get a better understanding of processes," he observes. "Our software offers a closed loop and enables customers to change their strategy, and then get feedback on the impact of that change. It also allows a template approach, creating a blueprint for future reference. It is much more energy efficient to use the equipment you already have and not run it to failure. With a digital system, you can find out if there a problem before it occurs, and, for example, order spare parts before they fail."
Making a complex process transparent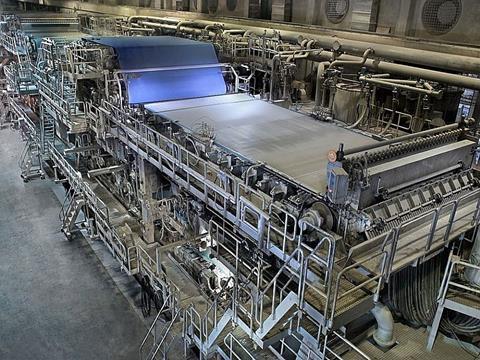 Jürgen Kerner, head of operations, Corporate IT at Mayr-Melnhof Karton AG, highlights that large efficiency gains can be made at the macro level and explains how the company achieved this by using Elasticsearch, a distributed, JSON-based search and analytics engine designed for horizontal scalability, reliability, and easy management.
"Cardboard manufacture is a complex, organic process," Mr Kerner remarks. "Efficiency is about maintaining quality, especially fibre length, with the minimum input of chemicals and minimum wastage. Minimising resource usage and the embedded carbon in key chemical constituents, cutting down production times and reducing wastage: this is where the real energy savings, cost savings and efficiencies can be found."
In the past, much of the relevant data was locked into individual control systems. Mayr-Melnhof Karton had detailed operational data on each part of the production process with no way to stitch it together.
"We took an IT search system that is often used to optimise efficiency and manage data centres, and we applied this to our operational data," Mr Kerner continues. "Elasticsearch is an open source technology which is built to handle large volumes data in different formats. It allows the user search across this disparate data and look for trends, patterns and potential efficiency gains. Of course, ERP systems allow you combine control system data into a predefined module and give you some overview. But Elasticsearch allowed us to really explore our process data, look for new trends and relationships and visualise this in straightforward dashboards which can be given to everyone from the shop floor to the boardroom."
The introduction of this new tool brought several benefits to Mayr-Melnhof Karton, as Mr Kerner points out: "Detection of manufacturing inefficiencies was reduced from days to seconds," he says. "We received self-service data intelligence for non-technical users, offering machine operators new insights into cardboard product KPIs such as chemical and moisture. We also were able to optimize our usage of raw materials, and lowered consumption of high-cost materials during production by 20 per cent with the same output. We were able to keep our costs low thanks to an efficient use of materials and improved production speed."