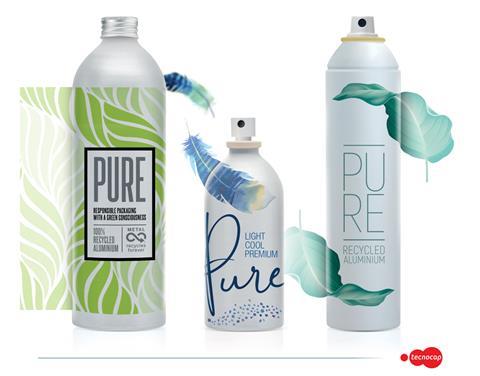 Tecnocap is exhibiting at ADF&PCD and PLD Paris 2020 with an extensive range of metal closures, a redesigned portfolio of aluminium aerosol cans and bottles made from 100% recycled aluminium. It will also be highlighting its sustainable vision around metal packaging, within a truly circular economy.
ADF/PCD is an important event focused on constantly evolving consumer needs and trends with the aerosol, dispensing, perfume and cosmetic packaging community. At booth J22 the Tecnocap team will showcase its latest upgrades in aluminium aerosol cans and bottles alongside its metal closures portfolio.
According to Tecnocap, shatterproof, rust-resistant and lightweight (important features for e-commerce), metal packaging is easy to transport, helps brands to protect their products from light sensitive ingredients while addressing key market trends for health and beauty.
"Thanks to its stylish impact on the shelf and superior graphic capabilities (360° and customizable full-body printing), metal packaging is inspiring for beauty industry to explore new possibilities in transforming the container into a successful marketing tool," says the company.
"Infinitely recyclable and economically valuable, metal unlocks the full potential of packaging to build/accelerate brands and inspire millennials. Nowadays, consumers are not only looking for more customized products, but are also thinking green. Metal packaging is infinitely recyclable without losing any physical properties and so will always be available for future generations."
This year, Tecnocap Group signed an agreement with a European producer of aluminium slugs and is able to manufacture and sell its 'PURE' aerosol cans and bottles made of 100% recycled aluminium worldwide. Tecnocap will also offer monobloc aerosol cans & bottles with a certified lower percentage of recycled aluminum (25% – 50% and 50% – 75%).