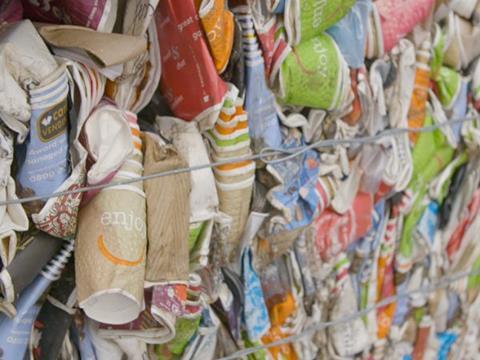 Costa Coffee has announced a commitment to recycling the same volume of cups it puts to market. Responding to this development, DS Smith Recycling and Cambridge Consultants look at recycling solutions from the point of view of recycling a big amount of coffee cups and making sure these cups actually reach the recycling stream.
In March, DS Smith announced that following on from trials, the company was able to recycle up to 2.5 billion cups at its recycled paper mill in Kent – the largest of its kind in the UK.
Peter Clayson, general manager of business development and external affairs at DS Smith Recycling, discusses what Costa's announcement means for the recycling industry.
"Costa's financial commitment to recycling half a billion coffee cups is another significant step forward in being able to recycle all of the 2.5 billion coffee cups we use every year in the UK. This comes at a pivotal time, with the coffee retail sector growing and coffee cup recycling still a hot consumer topic, and is great news for recycling in the UK."
He highlights the fact that collaboration across the supply chain will prove invaluable in tackling on-the-go waste.
"Costa's initiative will help get a significant proportion of those 2.5 billion cups to us. During the trial, we recycled 40 tonnes of coffee cups – more than four million individual cups. These cups were blended in controlled conditions, at a variety of trial ratios, with pure recycled paper grades – producing approximately 3.5bn square metres of paper that met our stringent quality standards. With this new capacity available, we challenged government, collectors, recyclers, and coffee retailers to collaborate to deliver the collection infrastructure needed to help correctly segregate and collect coffee cups for recycling. This voluntary initiative by Costa is a great example of that, helping to provide the financial investment needed to support better on-the-go recycling."
Mr Clayson points out that that despite this being a positive step, more work needs to be done.
"The UK is still mid-table when it comes to recycling performance, and we'll continue to look for opportunities to engage with the government to make us world class. If we don't, we miss the opportunity to get to the desired position wherein every used coffee cup is being recycled.
A 21st century solution for recycling
A smarter way to recycle from Cambridge Consultants on Vimeo.
Cambridge Consultants conceived a smart way to recycle, addressing the problem that consumers often get confused about how to best recycle their coffee cup, by harnessing machine vision, machine learning and smart consumer rewards.
"The coffee cup is a classic example where consumers struggle to decide if it should go in the general waste, recycling or composting waste stream. Even if it is clear which type of coffee cup they have in their hand, they are unlikely to know whether the infrastructure is in place to process it properly. Using technology to take these decisions out of the hands of the consumer will lead to significant improvements in recyclate quality. We have built the proof of concept," Catherine Joce of Cambridge Consultants explains.
The system works on the basis of image recognition. The technology within the system is designed to identify the type of waste the consumer wants to dispose of using image recognition. The system combines machine vision with machine learning and can be trained to recognise new items over time. It can also detect the difference between a recyclable cup and a compostable cup, potentially challenging to the untrained eye. It then indicates which section of the waste disposal unit the item should be placed in.
This could have a positive impact on recycling rates, as she points out.
"Consumers using the smarter recycling point were 35% more likely to dispose of waste items correctly than those using a traditional bin."
The technology could be attached to existing bins, but would work best as a recycling bin solution built from scratch, PR manager Richard Leyland tells Packaging Europe.
"The recycling bins could be positioned just outside the shop handing out the cups, but we believe the biggest benefits could be achieved if they are positioned further afield, as consumers are more likely to finish their drink away from the shop. This would also give retailers useful information and data about where their cups go and where they are recycled."
More info: