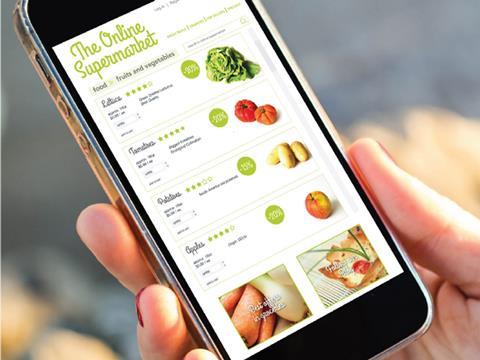 In this edition of our Innovation Spotlight, Adrian Dale, managing director at Polymer Logistics, explains how companies can take advantage of the e-commerce boom through the use of well-designed, smart containers.
The rise in popularity of grocery e-commerce shows no sign of abating. Its success has primarily been down to convenience. More recently, demand has been further accelerated by the coronavirus outbreak. This will have a lasting effect post-COVID-19, as more people become accustomed to this way of shopping.
The grocery e-commerce market is expected to continue growing. According to IGD's research, the European market for online groceries will expand by 66% by 2023, adding $21 billion. The challenge for retailers is expanding grocery e-commerce in a cost-effective and efficient manner while delivering the best possible customer experience.
Advances in reusable crate technology
To deliver the online grocery experience, all retailers need robust and well-designed containers. Selecting the appropriate crate is a crucial decision, as it can make a huge impact on every aspect of the delivery process.
For online shopping, the market for reusable containers is primarily dominated by foldable or nestable crates. These have to be lightweight, yet extremely durable, as they can be used for many trips in a day, stacked in vans and shuttled from store to house or pick-up point. The crate's design is often the result of a carefully considered research and development process, using software-driven techniques to execute the smallest refinements which, when taken as the sum of their parts, can deliver considerable performance advantages.
For example, simple enhancements such as bag hooks on the top rim significantly improve order fulfilment optimisation. Carrier bags can be hooked inside the crate, keeping them open, allowing easier and faster goods picking.
The use of a solid base ensures that any liquid spilt can be contained, preventing spillage to the crates below and subsequent damage to other orders. Also, crates are often designed with perforated walls to reduce weight and, when empty, they can be nested to minimise storage space.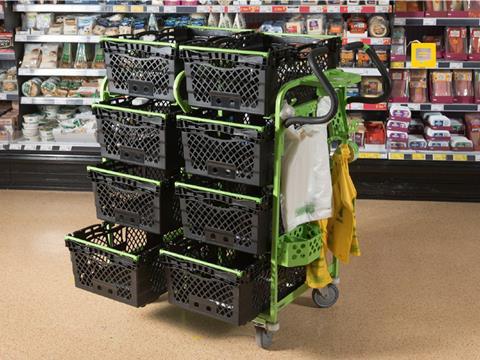 The use of IoT for container tracking
Attrition is a significant problem in the grocery e-commerce sector, with some supermarkets losing up to 1,500 crates per day, impacting on an operation's profitability. The application of Internet of Things-based tracking systems to e-commerce crates reduces losses and improves operational efficiency.
IoT technologies, based on smaller, cheaper, and ever-more reliable sensors, allow for the tracing of all delivered crates, particularly the ones left on premises by the driver, enabling collection at a later point in time. Additionally, these sensors can be used to monitor food conditions, ensuring that perishable goods remain within specified temperature/humidity parameters while in transit, consequently, they reach customers in optimum condition.
Crate innovation going forward
So, what new technologies and trends might emerge as the grocery e-commerce market continues to expand across Europe?
The design of customer-facing crates will be a key factor. By definition, online shopping takes the user away from the in-store experience and associated exposure to the supplier's brand. For a company looking to ensure its brand values remain front and centre with its online customers, the appearance, finish, and quality of reusable containers are key. Customised crates will have a bigger role to play when it comes to the overall e-commerce experience and how the customer perceives the retailer.
Future crate designs will need to consider the use of automated warehousing. These facilities use intelligent robots for picking and placing at the order fulfilment stage. Here, reusable crates that are strong enough to protect what is inside and can communicate with warehouse systems will become essential to efficient operation.
At Polymer Logistics, we have worked with many of the leading supermarkets across Europe to design and manufacture bespoke reusable shopping crates that meet both strict performance requirements and detailed branding specifications. Success in this sector is helped by the fact that we offer a full service that includes in-house R&D and manufacturing capabilities. To learn how to improve your online grocery operations, download: Online shopping made simple.
This content was sponsored by Polymer Logistics.