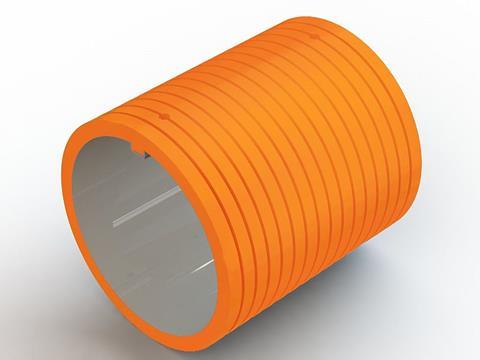 SUN Automation Group will introduce its EZ-Covers Replaceable Feed Roll Covers to the European market and highlight its latest product and technology solutions at CCE International 2019 in Munich from March 12 to 14 (Hall B6, Stand 550).
The company's EMEA corrugated specialist team will be on hand to share expertise and answer questions about its newest innovation, EZ-Covers Replaceable Feed Roll Covers as well as its popular MicroGrind ® Die Cut Accuracy System, CorrStream® Digital Printer, and Spectrum® Inside Print System.
Continuing its mission to bring the most innovative solutions to the corrugated industry, SUN will introduce its latest innovation to the European market. The EZ-Covers are a direct result of SUN's revolutionary 'culture of listening'-- which enables SUN's innovative engineering team to find solutions to common customer pain points. The new patent-pending feed roll covers are replaceable in sections without removing the roll from the machine- enabling quick and easy installation by one operator. Its simplistic design allows for replacement without the involvement of maintenance personnel and significantly reduces planned and unplanned downtime. In addition to the cost savings associated with reduced labor and downtime, SUN EZ-Covers also minimize costs associated with crating, transporting, inventory and handling, since spare feed rolls are not needed. The replaceable feed roll covers eliminate the need to stock spare feed rolls while simultaneously reducing replacement time from over 4 hours to just 30 minutes.
"Beyond our integrated suite of advanced technologies, our customers count on the expertise of our outstanding engineers and globally recognized customer service and support," says Greg Jones, Vice President of Global Sales and Aftermarket. "Customer's continued feedback allows our global team to collaborate and develop new and better ways to help customers optimize efficiencies, reduce downtime, and provide greater value to their downstream clients."
On display in Hall B6, Stand 550:
MicroGrind ® Die Cut Accuracy System
SUN's MicroGrind ® technology is the industry's most effective anvil-trimming solution for both top and bottom applications. Its patented tungsten carbide grind roll technology enables grinding the anvil flat and true. The company's inventive and labor-saving approach allows the surface to be treated in micro amounts (0.001" or 0.025 mm) automatically with grinding precision every 10,000 impressions -- all without operator intervention.
CorrStream® Digital Printer
Answering the industry's continued call for digital printing on corrugated, SUN will feature its recently launched latest generation of the popular CorrStream technology. CorrStream® features a smaller footprint and modular design—making installs easier and faster than ever. CorrStream® provides the entire suite of digital benefits (speed to market, no tooling, versioning, etc.) and is also designed to reduce the concern of technology obsolescence. The new modular design enables seamless integration of new and emerging technologies.
Spectrum® Inside Print
Custom messaging and brand building has never been easier– available to be retrofitted on most machines with little to no set-up and maintenance. Featuring specific board caliper settings within .025mm and self-contained controls for easy installation and minimal maintenance, Spectrum® Inside Print is equipped with the SunTrac® Vacuum Transfer System for accurate sheet control, harmonic drive digital register for maintenance-free operation and ColorMaster® blade system for controlling precise ink metering.