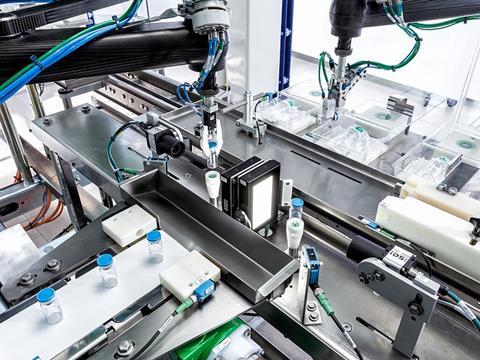 At Pharmapack in Paris, Schubert-Pharma showcases its comprehensive range of packaging solutions and engineering services for the pharmaceutical and healthcare industries. At the heart of its offer is the ability to seamlessly integrate a wide variety of processes and functions, even with external systems, into Schubert's top-loading machines. Labelling, quality control or serialisation tasks can be safely carried out by the packaging machine.
Whether it's vials, ampoules, plasters, infusion bags, syringes, devices or multi-purpose products – Schubert-Pharma offers pharmaceutical companies a tailored solution for every single product. A wide range of packaging tasks can be efficiently implemented with the components in the modular systems offered by Schubert technology. Schubert-Pharma can draw on wide-ranging engineering expertise regarding integration of additional functions, such as a turntable for the infeed of vials, as well as fully integrating systems from third-party suppliers into the control concept of TLM systems. The main advantage for the operator is the simple operation of these functions as no additional user interfaces are required.
Full process integrationOptions for integrating processes are extremely flexible. They range from simple functional additions, such as labelling systems, to complex data management systems (track-and-trace).
The tried and tested Schubert image recognition systems carry out the optical control functions and quality control tasks. This includes mix-up checks, verifying the presence and completeness of products, and shape control.
Integrated external systems, such as labellers to apply tamper-evident seals or camera systems to verify serial data, can be seamlessly integrated into Schubert's own Track-and-Trace system.
With BFS products or blister packaging, deep-drawing, sealing, cutting and punching within the TLM systems take place in an automated process. Tray production and assembling of cartons for secondary and final packaging are also carried out without manual labour or removal of products from the line.
Measures such as the attachment of tamper-evident closures, dividers for transport safety, the exclusion of glass-to-glass contact within the packaging machine and gentle product handling all ensure a high degree of safety for users and patients alike.
Schubert-Pharma at Pharmapack 2019 (Hall 7.2, Stand C12)