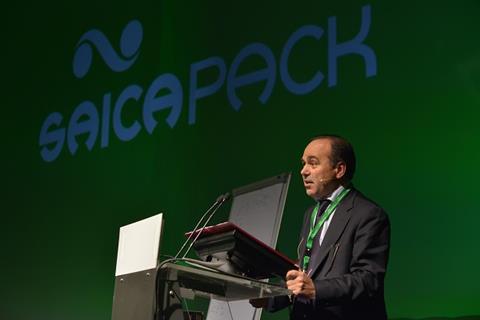 The ninth SAICA Professional Conference, "We challenge, We respond" took place in Porto, Portugal, on Wednesday 31st May.
The event was attended by more than 300 participants from both SAICA and their customers, who were addressed by experts from various sectors to discuss packaging solutions for customers.
The conference, titled "We challenge, We respond", was hosted by Country Manager of SAICA Pack Iberia, Julián Montal, and saw more than 300 participants from SAICA and its customers come together to discuss current issues faced within the retail industry.
Speaking at the event, Miguel Ángel Martínez, SAICA Pack's Commercial & Marketing Director, said that the forum was an opportunity for SAICA to collaborate with customers to help add value to their products through supply chain solutions.
SAICA Pack's Commercial & Marketing Director, Miguel Ángel Martínez, said:
"We believe firmly in offering leading global packaging concepts and solutions in the form of sustainable, innovative and personalised packaging for each of our customers.
This is crucial for both us and our customers in order to adapt to a constantly changing society, all through research and innovation strategies and 'end to end' services."
Some of SAICA's biggest customers from various sectors, including Paul Earnshaw from Tesco Plc and Catarina Laureano, the Director of Pingo Doce, one of Portugal's largest supermarket chains, attended as guest speakers to explain the challenges faced by retailers.
Julian Watt, SAICA Pack Senior Design Manager, discussed how the whole SAICA Group, including Natur, Paper and Pack, contributed to improving processes in the supply value chains of customers.
Other contributors to the Professional Conference included José Antonio Rodrigues, Managing Director of Purchasing for 'Navigator'; who spoke under the title 'Growing Together'. The Director of French agri-food co-operative Agrial, David Delalande, dealt with the purchasing decision process and the Total Cost of Ownership methodology, with reference to direct and in-direct costing calculations, and the benefits associated with the acquisition of equipment or programs. Furthermore, Pablo Foncillas, lecturer from the IESE Business School, provided the conference with a perspective on the expected performance of the retail sector up until 2025.
In bringing the event to a close, SAICA Group General Manager, Pedro Gascón said:
"New technological applications and the installation of new innovative processes have helped us to develop unique and innovative solutions for our customers. SAICA will continue its diversification in the market of white and brown papers, and continue to provide sustainable packaging solutions using raw recyclable materials, giving them a new life."
More info: www.saica.com