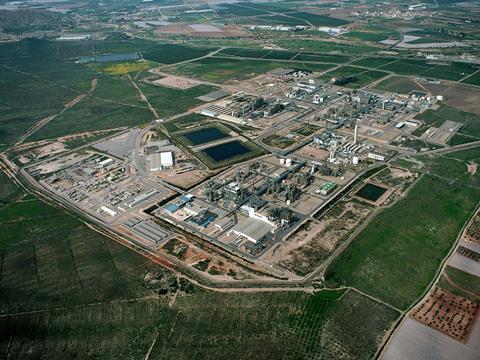 SABIC reports that its polycarbonate facility in Cartagena, Spain, is set to become the world's first large-scale chemical production site to be run entirely on renewable power.
Once the plant comes online, SABIC's customers, including those in the automotive and construction sectors, will have access to polycarbonate solutions produced with 100% renewable power.
The company has agreed a deal with Iberdrola, one of the world's biggest electricity utility companies, who will invest almost €70m to construct a 100MW solar PV facility with 263,000 panels on land owned by SABIC, reportedly making it the largest industrial renewable power plant in Europe. The plant is expected to be fully operational in 2024.
This 25-year deal represents a step in SABIC's journey to transition all its global operations to cleaner energy. Its ambition is to have 4GW of either wind or solar energy installed for its sites globally by 2025, rising to 12GW by 2030.
Bob Maughon, EVP of sustainability, technology and innovation, and CTO and CSO at SABIC, says: "Partnerships of this kind are the cornerstone of our business growth model. The solar PV powered plant in Cartagena demonstrates that SABIC continues to drive the sustainability agenda in the chemicals industry and that a transition on such a large scale is possible.
"The new PV plant will deliver an 80kt annual reduction in indirect CO2 emissions, and furthers strengthens our support and contribution to wider climate change initiatives like EU 2030 and our alignment with the UN Sustainable Development Goals."
"These partnerships enhance the competitiveness of renewables and continue to create opportunities for the development of innovative projects that are transforming the present and the future of energy. The long-term energy purchase contracts provide stability to investments and have become an optimal tool for managing the electricity supply of major consumers, committed to clean and sustainable energy sources," comments Eduardo Insunza, corporate customer global director at Iberdrola.