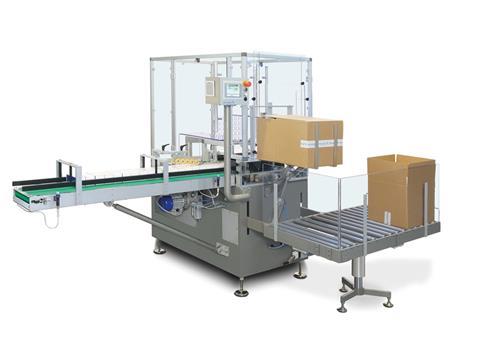 At the upcoming FachPack 2019, Romaco will show the Promatic PAK 130 as a tertiary packaging solution. According to the company, this semi-automatic case packer is ideal for secure aggregation of serialised pharmaceutical cartons.
The PAK 130 semi-automatic case packer from Romaco Promatic packs cartons into cases in conformity with the most rigorous standards for the manufacture of tamper-evident pharmaceutical packaging. The machine is designed to be connected to software solutions providing secure aggregation. Pharmaceutical manufacturers are free to decide themselves which aggregation system they purchase and Romaco Promatic then configures the PAK 130 accordingly. After serialisation, the secondary packaging is passed to the PAK 130, which aggregates the cartons as they are packed into cases. Proof of originality is established in this way for both the secondary and the tertiary packaging. Track & trace systems are intended to prevent counterfeit drugs from entering the legal supply chain. Romaco offers the Promatic PAK 130 case packer in line with an upstream Promatic PTT track & trace platform as an integrated, single-source anti-counterfeiting solution.
The grouping, stacking, aggregation and the insertion of the cartons into the cases are fully automated on the Promatic PAK 130. The semi-automatic case packer achieves a maximum output of up to five cases per minute. Closing the carton flap with adhesive tape can likewise be automated on request.
On show at FachPack in Nuremberg (Germany) from 24 to 26 September 2019 (Nuremberg Exhibition Centre, Hall 3A, Stand 3A-529).