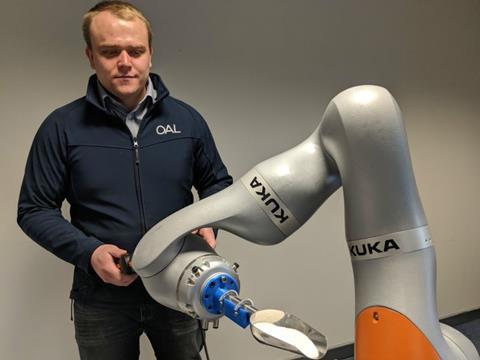 At Anuga Foodtec 2018, OAL showcased how robots are making the weighing of ingredients in food manufacturing safer, faster and more accurate.
Food manufacturers were able to learn and watch a demonstration of how to overcome the traditionally labour-intensive tasks of handling, weighing and preparing raw ingredients with robots. Currently, the cost of this is as high as 5% of a manufacturer's turnover driven by factors such as increasing labour costs. Visitors witnessed the industry first APRIL Robotics Weighing Station weigh ingredients with a collaborative robot. The APRIL system automates the weighing of micro-ingredients, quantities of <5kg. By using a collaborative robot and smart algorithms from the University of Lincoln, it is possible quickly weigh out free-flowing and non-free flowing powders, to a recipe, to an accuracy of 1g with zero cross-contamination. This technology was developed under an Innovate UK project between OAL and the University of Lincoln.
OAL also showcased their Steam Infusion technology, one of the fastest growing food processing and cooking methods capable of cooking 500kg of fresh sauce in just five minutes. OAL work with Spirax Sarco, the global steam experts, to offer the unique technology to the European market.
Join OAL, ABB and the University of Lincoln for their Food Manufacturing 2030 event. The event will combine expert guest speakers with breath-taking demonstrations, so you can learn how robotics is changing the way we handle and process raw materials. Learn more and sign-up here.
More info: