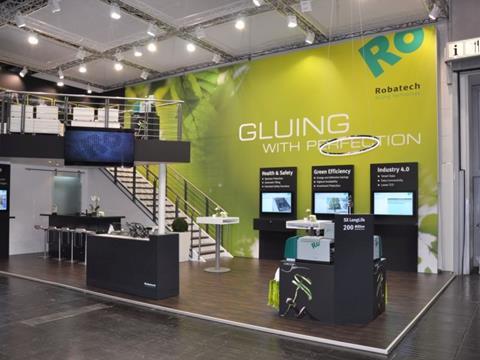 From May 4 to 10, Robatech's booth at interpack 2017 in Düsseldorf was a well-visited attraction, and the company looks back with satisfaction.
Many visitors learned about the numerous innovations, new products, and attractive service offerings. Under the motto "Gluing with Perfection", Robatech presented latest technologies and services for an optimized gluing process in different applications in the packaging industry.
Structured into five key topics: Health and Safety, Local Service, Innovation, Industry 4.0, and Green Efficiency, the booth presented itself at its best. Every topic was presented with a topic island or using demo equipment. Modern, sustainable, leading-edge technology, customized and environmentally friendly – this is the objective of research and development at Robatech.
Customers highly appreciate the high added value and performance of the products, as well as their low energy and adhesive consumption. Therefore, the trade fair booth represented the central contact point for all interested parties from day one of the trade fair to its last day.
The exclusive event on day five was also impressive from the start. The company hosted a large VIP event for the exhibitors showing Robatech equipment at their booths during the trade fair. The event was a clear sign of the increasingly growing number of customers trusting the Robatech brand: They count on «Innovative Quality made in Switzerland» and are proud to present Robatech equipment. The objective to rigorously exploit all potentials for new product developments was clearly noticeable. The remarkable booth concept and special flair as well as the expressly open, appealing presentation offered the perfect framework for mutual dialog.
Without a doubt, the integration of adhesive systems into machines – not only physically, but also technically via an interface – advanced to a highlight of the trade fair. This technology enables central management via the machine control – even per remote access using a smartphone or tablet. Moreover, all required information is transmitted in real time to the control. Thus, the adhesive systems are ready for the "Industry 4.0" concept and enable a prompt response as well as predictive and preventive maintenance. The focus on Industry 4.0 already now is no remote prospect for Robatech anymore, but can be lived here and now.
More info: