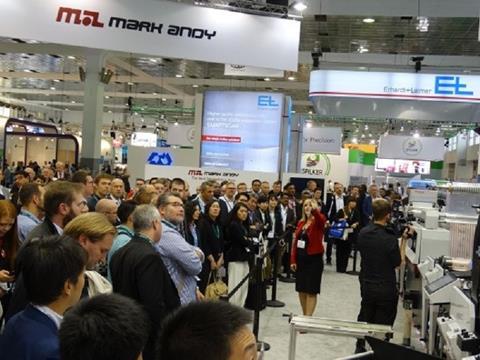 Labelexpo Europe 2017 proved to be another successful event for Mark Andy and its global network of distributors. The North America-based company unveiled new technologies in both digital and flexo equipment leading to dozens of signed contracts on the show floor.
This year's booth featured digital and flexo options from the press manufacturer, as well as inspection and rewind equipment from Rotoflex. Live demos of the Digital Series and Performance Series full-production presses allowed potential customers to see in-action the updated capabilities of each press. Digital One demos spanned throughout the day and drew large crowds to the booth as well.
Demonstrations of the enhanced Performance Series P7 were well received by attendees during the four-day show. Two designated demos were run on the award-winning narrow-web platform, showcasing flexible packaging applications and true hybrid production with Digital Plus Screen. Digital Plus Screen, an inline digital print bar launched at the event, serves as cost-effective alternative to traditional rotary screen.
Utilizing the same printheads and ink chemistry as Digital Series, the new Digital Plus Screen unit delivers richly pigmented output with the added capability of printing reverse text, barcodes, and sequential numbering in a single pass.
Mark Andy also focused on flexible packaging at this year's event. Once a market off-limits for narrow web converters, food-safe flex pack jobs are a key point of value for owners of the enhanced Performance Series P7 press. These food-safe flexible packaging jobs are made possible by an in-line solventless lamination process, which reduces pot-life issues of adhesive and costly downtime for offline curing. During this demo, two flexible packaging jobs were run by reverse printing on PET, laminating with the proprietary Mark Andy system, all while using low-migration LED inks.
As one of the only flexo label press manufacturer offering a truly hybrid workflows, Mark Andy reports digital and flexo no longer are conflicting processes. With nearly 800,000 lines of code fueling a hybrid press, Mark Andy chose digital and flexo press elements from a single source, integrating them into a true OEM hybrid label printing solutions. According to Mark Andy, true digital hybrid presses feature seamless in-line converting and finishing, all with the flexibility of digital, proving to be single-pass profit centers that are transforming the market.
Digital Series demonstrations showcased 3 high-speed job changeovers and 3 different substrates (traditional white semi-gloss, clear-on-clear PP and a grade 8 estate stock) using 3 different dies. Additional demo jobs printed included a wine label printed on an estate paper and microbrew labels printed on a semi-gloss stock with VDP elements.
Digital Series demos introduced QCDC-SR, a semi-rotary adaptation of the industry-recognized QCDC (Quick Change Die Cut) platform. QCDC-SR enables converters to cut varying repeats from the same magnetic die cylinder which in turn reduces waste and downtime.
Labelexpo 2017 marked the formal European debut of Digital One, a small footprint digital press launched to market Q3 of 2016. Digital One garnered interest with its entry level versatility, affordable price point, and in-line finishing. Demo jobs were printed using CMYK digital print and a holographic cast and cure cold foil from Kurz. Adhesive for the cold foil was housed in a multi-purpose flexo deck just outside the digital print engine, and proves the hybrid nature of the technology. Takeaway samples for the press included prime labels as well as applications outside of the traditional label market, such as printed menus and event wristbands.
Mark Andy has seen monumental growth in the European market, furthering global reach and contributing to the company's success at Labelexpo. Tom Cavalco, Managing Director, Mark Andy provides "This Labelexpo has been extremely effective. In 2017 we have launched Mark Andy into new global markets and garnered new opportunities. With digital hybrid technology proving to be the future of print, Mark Andy is well positioned to meet the growing demands of converters. We're proud to be offering one of the only truly hybrid workflow on the market today."
More info: